Still no arrests in 1972 murder of young boy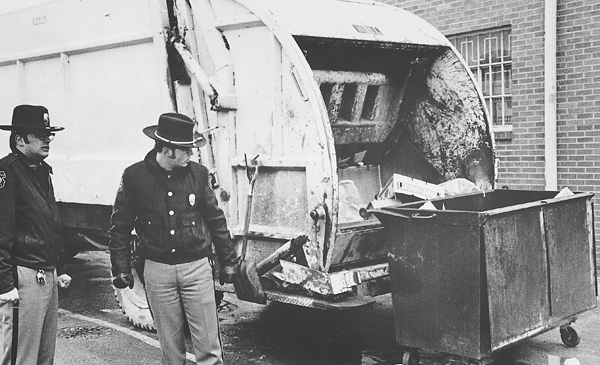 ---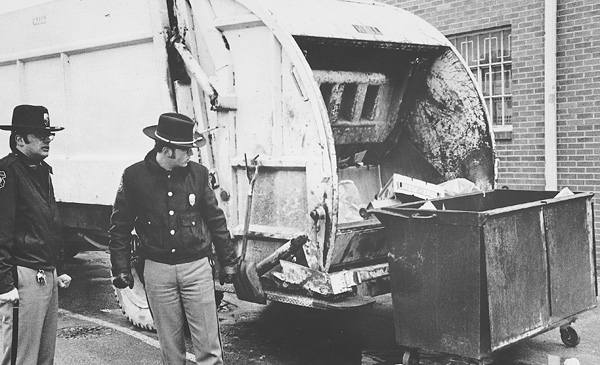 Photo
Boardman police officers Glenn Bowers and George Statler investigate the discovery of a boy's body in a trash bin behind Isaly's Dairy in the Boardman Plaza. Forty-two years later, the department continues to investigate the death of Brad Bellino who had been raped and strangled to death on Easter weekend.
By Kalea Hall
boardman
It was Easter weekend 1972, a time to spend with family enjoying the hopeful onset of spring in Ohio.
But one family was on a frantic search for 12-year-old Brad Bellino.
"He was reported missing, and we took to the streets," said Tony D'Apolito, the boy's cousin.
The next Monday police got the call that the family dreaded — Brad was found in a dumpster behind the Isaly's Dairy store in the Boardman Plaza.
He had been raped and strangled with a tan belt that is believed to belong to someone else and remained on his neck. His striped sneakers and pants were visibly seen and captured by a Vindicator photographer.
"We just hoped" to find something, D'Apolito said. More than "40 years later have passed and not one word."
D'Apolito was a young Youngstown police officer at the time. He was called in to identify Brad's body and then had the unfortunate job of informing his Aunt Elisa and Uncle Joseph Bellino that their youngest child was found dead.
"You are never prepared to do anything like that," D'Apolito said. "You just do it."
D'Apolito still wants an answer to the question he has had for decades and solid proof of what happened to his young, happy-go-lucky, baby-faced cousin.
"I took it on myself to be able to do something about it," D'Apolito said.
With the help of his friends in other departments he tried to piece together what happened to Brad. The last hours of his life also seem to be a mystery of who saw him, and when and where they saw him.
It is known that Brad stayed at a friend's house on Friday night in Applewood Acres. He was reported missing on Saturday afternoon.
He was purportedly seen walking to Dairy Queen on Market Street and other areas.
"It caused a big uproar in the community," Boardman Police Chief Jack Nichols said.
Nichols did not join the police force until 1978, but he remembers the crime. In 2005 he worked on the case with retired detective Robert Rupp, who got the call about the boy's body found in the dumpster in 1972.
The two worked on the case every day for more than a year — interviewing people, serving search warrants and sending the evidence to the state. That's when they found out a DNA sample was found on the boy's clothing — allowing them to have a database of DNA tested for a possible hit, but nothing.
"We had a lot of guesses and speculations, but no solid information," Nichols said. "Hopefully, some day we will get a hit on the DNA or someone will come forward. Before I leave the police department it would sure be nice to give the family closure."
D'Apolito went on to work construction and then with the Mahoning County Prosecutor's office as an investigator, after he recuperated from being struck by a car while on the job, which left him in a wheelchair.
Through the years he continues to think about his cousin — thinking and hoping some new information would surface.
"It's about Brad," he said. "I always wanted to do something [about the case]. Now I am saying before I die, I want to have something done."