Bodine-Wilson rites are planned for July 19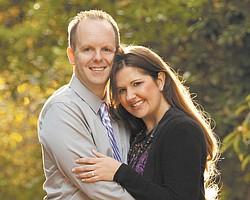 Photo
Jeffrey Wilson and Jennifer Bodine
LOWELLVILLE
Fritz and Marcia Bodine of Lowellville are announcing the engagement of their daughter, Jennifer Bodine of Youngstown, and Jeffrey Wilson of Boardman.
His parents are James and Carol Wilson of Boardman.
Our Lady of the Holy Rosary Church will be the site of the 1:30 p.m. July 19 open ceremony.
Invitations will be issued for a reception at Our Lady of Mount Carmel Hall in Youngstown.
The bride-elect attended the University of Toledo and earned a bachelor's degree in business management from the University of Phoenix. She works as an assistant manager for New York and Company in Boardman.
The future groom earned a bachelor's degree in education from Youngstown State University and a master's degree in education administration from Westminster College. He teaches eighth-grade social studies and is seventh-grade boys basketball coach at Austintown Middle School.