Clifford the Big Red Dog visits Austintown library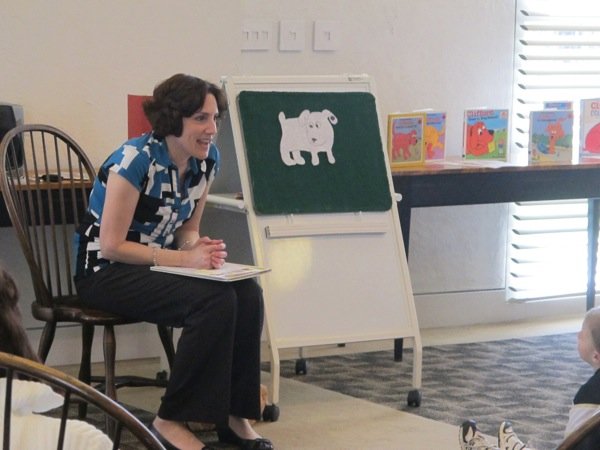 ---
By TIM CLEVELAND
One of the most popular characters among young children, Clifford the Big Red Dog, made an appearance at Austintown library on April 16 to visit with children and library staff.
Approximately 50 children attended the event.
"I think this might have been the first time we've done the 'Clifford' program," said children's librarian Nikki Puhalla. "Clifford's on PBS and they really push reading and getting kids into reading. There's an emphasis on reading and that's what we promote at the library. All the kids know Clifford and they love him.
"This is a big draw. Austintown gets a lot of kids for story times, so when they heard that Clifford was here, I knew there would be a lot of kids here today."
In addition to Clifford, the children also heard Puhalla tell a few stories, including reading the book "Clifford's Class Trip," and sing songs like "Old McDonald Had a Farm." There was also dancing to entertain the children.
Maggie Kennedy brought her daughter, Layla, to the event because Layla is a big Clifford fan.
"She loves Clifford and we want to go see Clifford," Maggie said. "We wanted to meet him and give him a hug. We've been to a couple events here before. We went to the pajama party story time and the Christmas show."
Puhalla said the story time events the library hosts are a big hit with the children.
"I think they like coming to story time because they get to see other kids, it allows them to interact with other kids, just kind of follow directions," she said. "When they dance and sing that helps their literacy skills, also."