Plant now for late summer wreaths Live to DRIED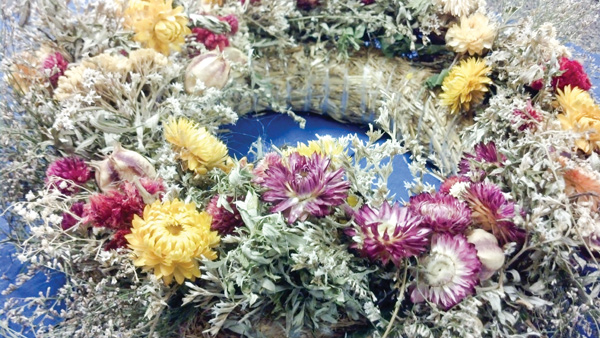 ---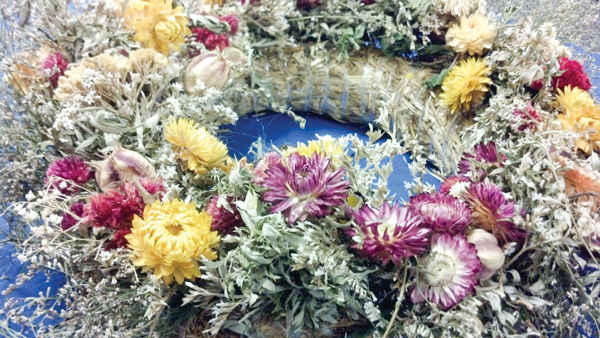 Photo
A dried flower wreath is pictured above.
By Barb Delisio
OSU master gardener volunteer
Now is the time to choose those flowers you want to use in your dried flower wreaths later in the year. They must be planted around the first of June in our summer gardens so we can harvest the flowers for drying during the growing season and into the fall.
There's an assortment of annuals, perennials and herbs to give us the color, texture and look we want for our wreaths. The base of a dried wreath will need some green or silver-gray color. Sweet Annie (Artemisia annua) turns a lovely green/yellow mix when dried. Silver King Artemisia (Artemisia ludoviciana) dries to a lovely silver/gray color. These are my favorites. Straw flowers — a staple in dried flower wreaths — come in yellow, cream, burgundy and orange. Globe amaranth and cockscomb celosia bloom in golds, reds or burgundy. Yarrow and tansy add a nice golden color. A wreath with a silver/gray base looks nice with oranges, reds and burgundy straw flowers.
Nigella (nigella damascena) is a nice combination of cranberry and cream. Blue salvia, blue or purple statice, globe thistle and lavender add nice deep blue color accents. The color white adds a nice bright spot in a wreath. For this effect we can choose from baby's breath, German statice, feverfew, or pearly everlastings. These particular flowers grow white and stay white when they are dried. Roses and peonies dry beautifully. They come in all different colors — red, pink, white and yellow. Large wreaths can be made of dry hydrangea blossoms. They usually dry to an off-white with tinges of pink or lime green.
To add a wonderful scent to your wreaths, combine herb greens or the flowers. Most herbs can be dried for wreaths with the exception of basil. Herbs such as rosemary, lavender leaves and flowers, thyme, oregano, and mint make wonderful additions to the scent of your wreath.
Now that you have suggestions of what to plant, you need to know how to plant them. Most of the above-mentioned flowers are annuals or we treat them as annuals in our area. Before you buy a specific plant research what zone it grows in, its height and width, its color, its blooming season and whether it needs sun or shade. Then lay out your garden plan. You can plant straw flowers 10-12 inches apart, but peonies need a couple feet between them. Peonies are perennials, so they'll be back each year. Make sure your soil is loose so the roots of the plant have room to spread out. Keep the area clear of weeds and water when needed. Mulching always helps to retain moisture during the hot days of summer.
Sometimes it's difficult to find particular flowers so be on the lookout at your local nursery or garden center, along with the Friends of Fellows Plant Sale (May 8-10), or the Holborne Herb Guild plant sales (May 17).
For a list of annual flowers to take with you to the garden center, go to: http://go.osu.edu/everlastings
For tips on drying and preserving these flowers, visit http://go.osu.edu/drying.