Gina Thai and Mark Frankford are engaged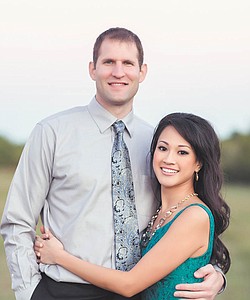 Photo
Mark Frankford and Gina Thai
Mr. and Mrs. Robert Frankford of Girard and Mr. and Mrs. Viet Thai of Coppell, Texas, are announcing the engagement of their children, Mark Frankford and Gina Thai, both of Hanover, Md.
The couple will exchange vows at 2 p.m. May 24 at the Mediterranean Villa in Arlington, Texas. A reception will follow at Thanh Thanh Restaurant, also in Arlington.
The bride-elect earned a doctor of optometry degree at the University of Houston College of Optometry. Dr. Thai is an optometrist at Peepers Eye Care of Saverna Park, Md.
Her fiancé earned a doctorate in electrical and computer engineering at Ohio State University. He is a radar systems engineer for Northrop Grumman Corp. in Baltimore.