YSU presidential finalist says he would 'commit years'
SEE ALSO: YSU and EGCC receive grants
By Denise Dick
YOUNGSTOWN
Gary L.Miller on Unions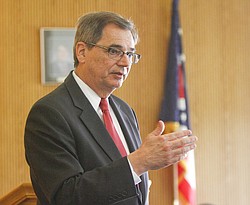 Video
YSU presidential candidate Gary L. Miller tells of his experience with unions.
Gary L.Miller on Fundraising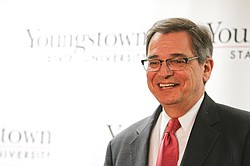 Video
YSU presidential candidate Gary L Miller talks about fundraising at universities.
Gary L.Miller on YSU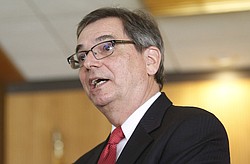 Video
YSU presidential candidate Gary L Miller says we must promote YSU more.
Gary L. Miller, chancellor at the University of North Carolina Wilmington and one of three finalists for the Youngstown State University presidency, says that if he's selected for the job, he would be committed to staying.
"I'm certainly willing to commit years," Miller said during his forums Tuesday with groups on campus.
Miller, who has been in his current post for less than three years, also is a finalist for the presidency of State University of New York at Buffalo.
Before UNC Wilmington, he served five years as provost and vice president for academic affairs and research at Wichita State University and four years as dean of arts and sciences at the University of the Pacific.
Time commitment has been an issue for the candidates, because this will be YSU's third president in four years.
YSU is a fantastic opportunity, Miller said.
Members of the campus community filled the Tod Hall meeting room, spilling into the lobby, to hear Miller's presentation.
The final candidate, Mary Cullinan, president of Southern Oregon University, will be on campus today for her meetings with campus constituents. Jim Tressel, executive vice president for student success at the University of Akron and former head football coach at both YSU and Ohio State, is the third finalist. Tressel, who also is a finalist for the presidency at UA, visited YSU on Monday.
Both universities' trustees will meet Thursday — YSU at 8 a.m. and UA at 2 p.m. — when either or both could make their pick. Both meetings will be in executive session. The Akron meeting was just announced Tuesday. YSU has said its choice won't be disclosed until a contract is negotiated.
Miller, who has a research background, said research is essential to a university such as YSU and he takes seriously the university's goal of being a nationally recognized urban research institution.
Though he recognizes the importance of student retention, he said that's just a part of the overall enrollment-management picture.
"We need to see enrollment management as from the time we talk to a student until they get a job — even after," Miller said. "Retention is part of that."
One of the issues YSU's ninth president will have to address is employee contracts. Pacts with unions representing the faculty and the classified staff, the campus's two largest unions, expire this year. Miller, however, has no experience in dealing with unions.
But he says he has a lot of experience dealing with employees.
Another challenge facing the new president is filling the cabinet. With the exception of the vice president of student affairs, all of the vice president positions will be vacant when the new chief assumes the helm.
Miller said it will take consultation with faculty and trustees to determine what's needed in a leadership team. For the provost and vice president for academic affairs, Miller said he would look for someone who is both creative and innovative who can manage a massive amount of paperwork while also being a visionary.
Michael Slavens, a junior from Boardman and the president-elect of the Student Government Association, appreciated that Miller is personable. During the student forum, Miller shook hands with each attendee, introducing himself.
That's important in a university president, Slavens said, because he or she is the public face of the institution.
In attending the presidential forums, Slavens said he's looking for two things: for the candidate to define the type of person he or she is, and to establish his or her vision for the university.
"As the top leader of the university — along with the trustees — the president has to have a vision," he said.