YSU LIVE | Full Tod Hall greets Miller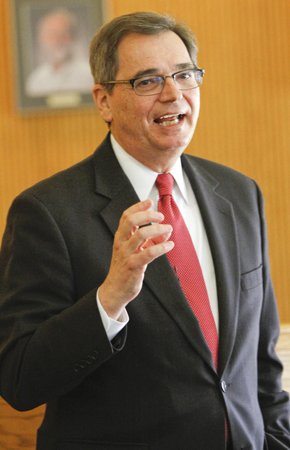 ---
=====
Wednesday, 6 a.m. main story:
By DENISE DICK
denise_dick@vindy.com
YOUNGSTOWN
Gary L. Miller, chancellor at the University of North Carolina Wilmington and one of three finalists for the Youngstown State University presidency, says that if he's selected for the job, he would be committed to staying.
"I'm certainly willing to commit years," Miller said during his forums Tuesday with groups on campus.
Miller, who has been in his current post for less than three years, also is a finalist for the presidency of State University of New York at Buffalo.
Before UNC Wilmington, he served five years as provost and vice president for academic affairs and research at Wichita State University and four years as dean of arts and sciences at the University of the Pacific.
Time commitment has been an
issue for the candidates, because this will be YSU's third president in four years.
YSU is a fantastic opportunity, Miller said.
Members of the campus community filled the Tod Hall meeting room, spilling into the lobby, to hear Miller's presentation.
The final candidate, Mary Cullinan, president of Southern Oregon University, will be on campus today for her meetings with campus constituents. Jim Tressel, executive vice president for student success at the University of Akron and former head football coach at both YSU and Ohio State, is the third finalist. Tressel, who also is a finalist for the presidency at UA, visited YSU on Monday.
Both universities' trustees will meet Thursday — YSU at 8 a.m. and UA at 2 p.m. — when either or both could make their pick. Both meetings will be in executive session. The Akron meeting was just announced Tuesday. YSU has said its choice won't be disclosed until a contract is negotiated.
Miller, who has a research background, said research is essential to a university such as YSU and he takes seriously the university's goal of being a nationally recognized urban research institution.
Though he recognizes the importance of student retention, he said that's just a part of the overall enrollment-management picture.
"We need to see enrollment management as from the time we talk to a student until they get a job — even after," Miller said. "Retention is part of that."
One of the issues YSU's ninth president will have to address is employee contracts. Pacts with unions representing the faculty and the classified staff, the campus's two largest unions, expire this year. Miller, however, has no experience in dealing with unions.
But he says he has a lot of experience dealing with employees.
Another challenge facing the new president is filling the cabinet. With the exception of the vice president of student affairs, all of the vice president positions will be vacant when the new chief assumes the helm.
Miller said it will take consultation with faculty and trustees to determine what's needed in a leadership team. For the provost and vice president for academic affairs, Miller said he would look for someone who is both creative and innovative who can manage a massive amount of paperwork while also being a visionary.
Michael Slavens, a junior from Boardman and the president-elect of the Student Government Association, appreciated that Miller is personable. During the student forum, Miller shook hands with each attendee, introducing himself.
That's important in a university president, Slavens said, because he or she is the public face of the institution.
In attending the presidential forums, Slavens said he's looking for two things: for the candidate to define the type of person he or she is, and to establish his or her vision for the university.
"As the top leader of the university — along with the trustees — the president has to have a vision," he said.
====
Tuesday, 6 a.m. main story:
YOUNGSTOWN
Jim Tressel, one of three finalists for Youngstown State University president, said he hasn't thought much about whether he would accept the YSU presidency over that of the University of Akron — where he also is a finalist.
"I haven't been offered a position yet," he told reporters Monday.
But he doesn't expect he'll go back to coaching.
"I don't wake up in the morning and say, 'I wish I were still coaching,'" he said.
Tressel said he has more important things to do — not that coaching isn't important, he noted.
The former coach said he didn't apply for the YSU position last year, although he was approached about it, because when he was hired at UA he made a commitment to stay there for two years. As it ended up, the person YSU trustees selected, Randy J. Dunn, left the presidency after only eight months.
As far as a time commitment now, if he is offered and accepts the YSU position, Tressel said he would have the same mindset he did when he first came to YSU as a football coach in 1986, and when he went to Ohio State University to coach that team.
"I take a job with the idea that I could be there forever," he said.
Tressel was the first of the three finalists to visit campus, meeting with various constituencies — faculty, deans, students, YSU Foundation, union leaders, the campus community and community leaders.
Gary L. Miller, chancellor of the University of North Carolina-Wilmington, and Mary Cullinan, president of Southern Oregon University, will follow the same schedule today and Wednesday, respectively.
Trustees plan to meet Thursday and could make a recommendation for a new president — YSU's ninth — to the search firm. The firm, AGB Search of Washington, D.C., would contact the candidate to determine if he or she is interested and if so a contract would be negotiated. An announcement of the new president won't be made until a contract is worked out.
People packed into the trustees meeting room in Tod Hall to hear Tressel. Those who couldn't fit into the room gathered outside to listen.
Speaking without notes, Tressel joked with the audience, interspersing his plans for the future with memories of his time at YSU and the people with whom he worked.
About his qualifications, Tressel said there's a time and a place for everything — and "this may be the time and the place for a non-Ph.D. president."
Of the YSU finalists, Tressel is the only one who doesn't have a doctorate. His highest degree is a master's in education.
Besides his 38 years coaching, leading both YSU and OSU to national championships in their respective divisions, Tressel has spent the last two years as an administrator at the University of Akron where he is the executive vice president for student success.
UA trustees, who wrapped up their visits of presidential finalists last week, met Monday but issued no announcements. Additional meetings are planned for Monday and May 19.
In the wide-ranging talks on the YSU campus, Tressel discussed points he believes would strengthen YSU.
"The most impactful thing we can do from a financial standpoint is retention," Tressel said. "Secondly, we've got to do a great job at development, at fundraising."
He also believes it's a necessity to expand YSU's recruiting area. International students on campus can help not only with numbers of students on campus, but also with students' experiences, allowing students to be around those from other countries.
Faculty must be involved in collaborating with all parts of campus involvement. Tressel touts a "culture of collaboration."
"You can't discount what another person wants," he said.
As for academics, he said picking a provost (the chief academic officer) needs to involve all of the stakeholders — faculty, staff, others — and take into account the strengths of the president, he said.
He also believes students want a hybrid of distance- learning and more traditional types of higher education. He also said he wants the best instructor for a course, whether full-time or an adjunct. Most of the time, the goal has to be "to maximize full-time faculty" but not be afraid to use an adjunct if they are better suited.
He noted that being at YSU shaped who he is.
"We don't brag enough around here," Tressel said.