YSU LIVE | Tressel says 'may be time' for non-ph.D. president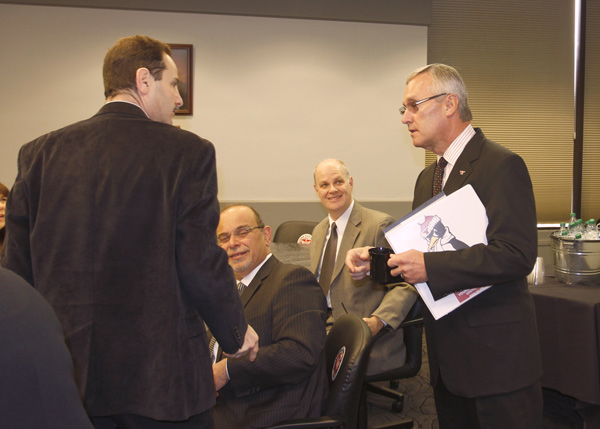 ---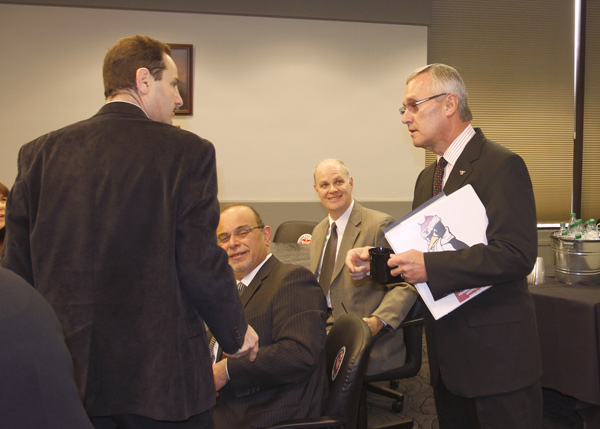 Photo
YSU presidential candidate and former coach Jim Tressel greets Dean Martin Abraham at YSU this morning as he meets with deans, faculty, and the executive team before a 2 p.m. forum at the university.Behind them are Deans Joesph Mosca and Bryan DePoy
Vindicator reporters Denise Dick and Emmalee Torisk are at Youngstown State University now as Jim Tressel readies for his public presentation at 2 p.m. at the campus.
Join us in the campus conversation on Twitter at #Tresselforpresident.
Watch wfmj.com http://wfmj.com at 2 p.m. for Tressel's comments. They will do the same Tuesday with presidential candidate Gary L. Miller and Wednesday with Mary Cullinan.
====
Jim Tressel, Youngstown State presidential candidate, says he does not plan to return to coaching when restrictions against his participation in college athletics are lifted.
"No, I would not foresee any interest in coaching. I've got more important things to do," he said.
=====
Monday 2 p.m.
About his qualifications, YSU presidential candidate Jim Tressel says there's a time and a place for
everything -- and "this may be the time and the place for a non Ph.D. "president,.
=====
Monday, 1:50 p.m.
YOUNGSTOWN - Jim Tressel , one of three finalists for Youngstown State University president, said he hasn't thought much about whether he would accept the YSU presidency over that of the University of Akron -- where he is also a presidential finalist.
"I haven't been offered a position yet," he told reporters this afternoon.
=====
Monday, 12:30 p.m.
Jimmy Tancabel, a sophomore from Boardman, read Jim Tressel's curriculum vitae before attending today's meeting with the YSU president hopeful.
"I thought he had some different experience from what the other candidates have," he said.
Tancabel believes each of the three finalists would bring his or her own strengths to the position.
He liked how Tressel talked about the importance of the relationship between YSU and the Mahoning Valley and the need to develop ways to allow commuter students to feel more ownership of the university.
Tancabel plans to attend the sessions for the other two finalists as well.
"I haven't settled on any one candidate just yet," he said.
Kurt Hess and Torrian Pace, both fifth-year seniors at Youngstown State University and both football players, support Tressel as the next YSU president.
They were among a group of students this morning who met and asked questions of the presidential finalist this morning.
"I've met him a couple of times before and he's so humble," said Hess, a native of Dayton.
Pace, who is from Chantilly, Va., likes how during Tressel's coaching days, he instructed his players in not only how to be successful on the field but also in life.
====
Monday, 11:45
Jim Tressel, one of three finalists for Youngstown State University president, said the university shouldn't "get caught up in the number" when it comes to enrollment but should concentrate on the whatever number is successful.
Tressel's comment came as he speak to a group of YSU students.
====
Monday, 10:45 a.m.
YOUNGSTOWN — After wrapping up a session this morning with representatives from the unions on campus, Jim Tressel, one of three finalists for the Youngstown State University presidency, will now meet with a group of students.
Tressel started the day with a meeting with faculty, followed by a meeting with the deans and a 2 p.m. forum in Tod Hall is set for the campus community.
The Vindicator will have student react later this morning.
======
Monday, 9:05 a.m.
YOUNGSTOWN — Jim Tressel, one of three finalists for the Youngstown State University presidency, began his campus visit today with an early morning meeting with the faculty.
A meeting with the deans followed and meetings with union representatives and the administrative team are planned as well as a campus tour and a tour of the Pollock House, the university-owned presidential residence before a 2 p.m. forum with the campus community in the first-floor meeting room in Tod Hall.
======
3 months of Dunn/YSU Prez/Tressel coverage here | Stories, letters, columns, etc.
======
Monday, 1:05 a.m.
Ex-coach to participate in campus forum today
By Denise Dick
denise_dick@vindy.com
YOUNGSTOWN
One of the city's favorite sons returns to the campus where he spent 15 seasons as a football coach to make his play to become president of Youngstown State University.
Jim Tressel, former head football coach at both YSU and Ohio State and now executive vice president for student success at the University of Akron, is one of three finalists for the YSU presidency. He'll spend today on campus, meeting with deans, faculty and the executive team before a 2 p.m. forum for the campus community. The visit will conclude with a dinner with university trustees.
"We'll go more in depth with them on their vision for the university and see whether their past experience will be helpful to YSU or not," said Dr. Sudershan Garg, chairman of the YSU trustees.
The other two finalists — Gary L. Miller, chancellor of the University of North Carolina Wilmington; and Mary Cullinan, president and English professor at Southern Oregon University — will visit campus Tuesday and Wednesday, respectively.
During the forums, attendees will be able to complete surveys offering feedback about the candidates. Garg said trustees will review those surveys and take the input into consideration, but ultimately the board will make the decision.
The board plans to meet Thursday, likely in executive session.
"I think there will be some decision made, but a decision doesn't mean we'll have a president in place," he said.
Trustees will give their choices in order to AGB Search, the firm that led the presidential search.
"The search firm will talk with the candidate to see whether he or she is still interested," Garg said. "If he or she is still interested and YSU is his or her choice, we'll work out a contract. Only after a contract is worked out will we make an announcement."
He said terms of the contract will be similar to those in the contract with former President Randy J. Dunn, who resigned in March after eight months on the job to become president of Southern Illinois University.
"There will be a few areas that will be re-looked at in light of what happened," he said. "We don't want what happened to happen again. There should be some penalty for the president to leave without cause before a certain amount of time."
Tressel also is a finalist for the University of Akron presidency and gave his pitch there last week, talking about the need to work together and to increase recruitment, bolster retention and reduce student debt.
Trustees from both universities expect to select presidents this month. UA President Luis Proenza is retiring June 30 to return to the classroom. Ikram Khawaja, YSU's provost and vice president for academic affairs, retires June 30. Khawaja was appointed YSU's interim president after Dunn's resignation.
Miller is among the five candidates being considered for the presidency of SUNY Buffalo State in New York. Cullinan, along with two other SOU administrators, received no-confidence votes from faculty members in March.
The three finalists' application materials are available at http://web.ysu.edu/presidentialsearch.
See more at: http://www.vindy.com/news/2014/may/05/tressel-makes-his-pitch-for-ysu-presiden/#sthash.D9mrJRPH.dpuf