---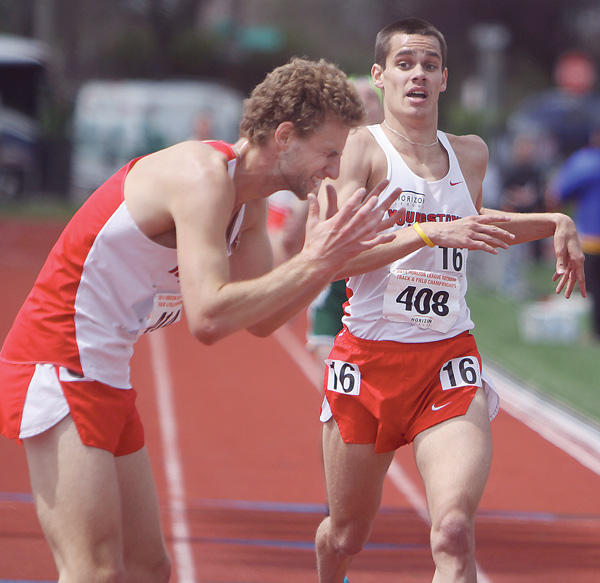 Photo
Youngstown State's Eric Rupe, left, celebrates as he watches teammate Austin McLean pass up Oakland's Andrew Bowman (not shown) during Sunday's 5,000 meter run at the Horizon League championship meet at Youngstown State University. The Penguins took first, second and sixth place in the race, giving them the win over Milwaukee for the Horizon League title.
By Joe Scalzo
YOUNGSTOWN
Youngstown State senior Austin McLean celebrated the heart-stoppingest, gut-wrenchingest, misery-inducingest 400 meters of his life by collapsing at the finish line, then getting carried to the infield of Farmers National Bank field, where he crumpled to the ground and said, "I see a light."
"Don't go toward it," someone yelled.
He lifted his fist, then extended his thumb and pinky, prompting one of his teammates to ask, "Is that cowabunga, or do you want water?"
Just then, his teammate, junior Eric Rupe, ran over and shouted, "Sweet kick! You showed up, man!"
"I thought I was out of it," McLean said. "It's all about the kick."
Twenty minutes earlier, YSU entered the second-to-last event of Sunday's Horizon League outdoor track championships with a five-point deficit to perennial league power Milwaukee. YSU coach Brian Gorby, who hadn't won a men's outdoor title since 1997, said the championship would come down to the 5K, prompting Rupe to yell, "I love the pressure. This is my moment."
With one lap left, it looked like his moment had passed. Milwaukee sophomore Gerrit Bruni was in first, Rupe was third and McLean was sixth.
"At that point, you gotta think, 'We need the 400 of a lifetime,'" Gorby said. "We need a championship 400, is what we need."
He got two. Rupe pulled out to the front — "I told the guys, 'I'm going to make myself bleed," he said — and stayed out front, finishing in 15:09.25 for a three-second victory. With a little more than 200 meters left, McLean started his kick, running the first 100 meters on speed and the next 100 on guts to finish second. Teammate Nick Gliha took sixth, Bruni faded to seventh and the Penguins finished with 19 points to take an insurmountable 14-point lead entering Sunday's final event, the 4x400 relay.
"With three laps left, I honestly thought I was out of it and I was getting really upset," said McLean, who was named the most outstanding track performer for the meet. "I was like, 'I know I'm better than these guys.'
"I just gave it my all and fell across the finish line."
Said Rupe, "We just slammed the door shut."
Milwaukee won the 4x400 relay, but the Penguins took third, making the final margin 199-189. The Panthers had won every Horizon League outdoor track title since 2004, with the Penguins finishing second five times over that span.
It was YSU's first Horizon League men's outdoor track title — the 1997 championship came in the Mid-Continent Conference — and YSU's first men's conference title in any sport since 2004 (baseball).
"With one lap [in the 5K] to go, Milwaukee had the championship and 300 meters later and a helluva lot of heart and hard work, we got it," said Gorby, who was named the league's coach of the year. "It took some behemoth performances."
Sophomore Connor Neu had YSU's only other individual victory on Sunday, shattering the Horizon League's hammer record with a throw of 64.22 meters. Valparaiso's Steve Bartholomew set the previous record (61.52) in 2008.
Neu also placed second in the discus on Friday and was named the most outstanding field performer of the meet.
"When they called my name, I was like, 'Holy crap!' I didn't think I'd ever get this. It's pretty cool," said Neu, a Berea native who transferred to YSU after one year at Kentucky. "It's pretty awesome to come into the program's first conference championship in a long time. I feel like I helped a little bit, scored a bunch of points, so it's great. I've never won something so big."
Struthers High graduate Arnoldo Morales was named the field freshman of the year after winning the high jump on Saturday.
"It means a lot," Morales said. "After finishing second [to Milwaukee] at indoor season, we had the mentality that we would do what we had to do. We had very good competition and we just wanted it more than they did."
None more than Rupe, who has made a career out of finishing second, beginning at Maplewood High and now at YSU. (It got so bad that, whenever his father, Ted, played Queen's song "We Are the Champions," Eric would make him change it.) But after runner-up team finishes in cross country and indoor track this season, the Penguins finally broke though.
"I'll tell you what," Rupe said, "the longer you wait, the better it feels."