Engineer revives dormant survey department
Tweet
Published: Mon, May 5, 2014 @ 12:05 a.m.
2 hires help Ginnetti meet his obligation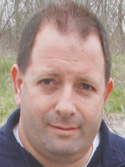 Photo
YOUNGSTOWN
Mahoning County Engineer Patrick Ginnetti wants to return to the gold standard of land surveying.
That's why he reinstated the long-dormant survey department in his office and hired Richard P. Wenzel as survey operations manager and Dustin Barrett as a surveyor-in-training, both full time.
Wenzel was hired at $75,400 a year March 11, 2013, and Barrett at $60,320 annually April 8, 2013. Both are being paid from gasoline-tax and license-plate-fee revenue.
"I'm statutorily obligated to be the county surveyor," said Ginnetti, who took office in January 2013.
As the elected county engineer, Ginnetti must have state professional engineer and surveyor licenses.
Part of Wenzel's job is to inven- tory, examine and restore or replace, as necessary, the survey monuments around the county, which the county engineer's office is legally responsible for maintaining. Mahoning County has more than 700 such monuments.
"It enables the private survey companies to access the county monuments" they are required to use as reference points in the land surveys they perform, Ginnetti said of the monument maintenance effort.
"We have to go out into the road and take the lids off," Ginnetti said of the monuments along the center lines of roads.
"A lot of them have been paved over. A lot of the monuments themselves have deteriorated over time because of [road] salt or ice," Ginnetti said.
The monuments within roadways consist of metal discs beneath a metal lid on the road surface with the letter "M" inscribed on it.
"The lid has to be taken off. The surveyor must put his rod on that point and take a reading," Ginnetti explained.
"The survey community uses these monuments often to establish boundaries of private property, so it's important for us to be able to maintain those," said Wenzel, a state-licensed surveyor for 25 years.
"They need to be preserved," agreed Marilyn Kenner, who was chief deputy county engineer under two county engineers — William Fergus and Richard Marsico — who preceded Ginnetti.
The county engineer's office abolished its survey department about 10 years ago because it needed more staff to perform road maintenance, explained Kenner, who is now assistant Boardman zoning inspector.
"They were called a survey department, but they were not registered professional surveyors," Kenner said. "They did not have the expertise" to maintain the monuments, she added.
A salary comparison shows Wenzel's salary falls near the midpoint of the Ohio Department of Transportation's $63,814-to-$83,658 range for the same job.
Barrett, who has a degree in survey technology, a surveyor-in-training certificate and more than 10 years of surveying experience, falls well above ODOT's $38,189-to-$49,650 range for his job.
The center-line monuments within the roads perpetuate a rich historical tradition of land surveying that goes back more than two centuries.
"What I find so rewarding about it is that it's steeped in history, which I love. Survey has always been my passion," Wenzel said.
The Pennsylvania-Ohio line, which also marks the eastern boundary of Mahoning County, is known as an Ellicott Line, named for the nationally prominent surveyor Andrew Ellicott, who surveyed that state line between 1784 and 1786.
Ellicott surveyed that boundary using celestial observations to determine true north, a 66-foot-long chain with 100 links, possibly a compass, and likely a surveyor's transit, Wenzel said.
Ellicott marked the boundary with wooden posts, Ginnetti said.
When that boundary was re-surveyed in 1881, a stone monument was erected every mile beginning at Lake Erie, and many of those state boundary markers remain embedded in the ground today.
One of these is at Mile 69, just south of Calla Road on the Pennsylvania side of the boundary, 25 feet east of the actual boundary in the middle of State Line Road.
Based on a 1960 county engineer's map, that marker is 5,280.66 feet south of the previous marker, meaning Ellicott erred by a mere 8 inches in using his chain to measure one mile, which is 5,280 feet, Wenzel observed.
A roadside obelisk on the Ohio side of State Line Road marks the state line and the southern boundary of the historic Connecticut Western Reserve at exactly 41 degrees north latitude.
Within State Line Road, directly in front of the obelisk, is the center-line monument in the center of a large white cross painted on the road, which is used as a reference point for updates of the county's aerial photography and mapping.
Today's surveyors need to be familiar with "the total station," an electronic transit that measures angles, distances and elevations, and the autocad drafting program and may need to be familiar with global-positioning-system technology, Ginnetti said.
"We are a profession. We're not a trade. We are licensed" in all 50 states and must complete continuing education requirements, Ginnetti said.
Surveying is a diversified field with practitioners performing land boundary, construction, topographical, aerial and oil and gas surveys.
Ohio's licensing requirements for surveyors begin with either a bachelor's degree in land surveying from an accredited university or a bachelor's in civil engineering with 24 additional quarter hours of state-approved surveying coursework.
Applicants must then pass an eight-hour initial state exam on the fundamentals of surveying, obtain four years of surveying experience under the supervision of a licensed surveyor, and then pass an eight-hour professional surveyor's exam to become a licensed professional surveyor.