'Duck Dynasty' star bashes US as sinful nation at men's rally
By Sean Barron
Phil Robertson Rally in the Valley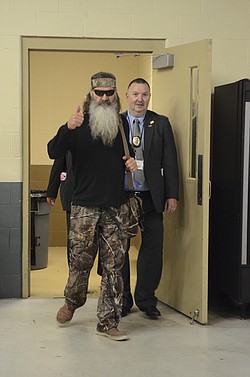 Gallery
Phil Robertson speaks at Rally in the Valley at the Covelli Centre to an estimated crowd of 4,500-5,000 men.
YOUNGSTOWN
For Julie Johnson and her son, Hayden Johnson, seeing Phil Robertson, the star of the popular A&E reality show "Duck Dynasty," was uplifting — though perhaps not in the usual ways.
"I'm so lucky to have all my friends and family," the 13-year-old Salem boy said. "I just want to say, 'Thank you.'"
When he was 15 months old, Hayden was diagnosed with a brain tumor, something he fought for about eight years. These days, he's doing well, he said.
Mother and son expressed gratitude to Robertson and his family for having prayed for Hayden during Saturday's Men's Rally in the Valley 2014 at the Covelli Centre downtown.
Robertson was the main draw for the seven-hour gathering, in its fifth year, which combines religious messages, music and workshops. Its theme was "No Compromise … No Retreat … Standing on the Truth," taken from the biblical Book of Daniel.
Between 4,500 and 5,000 people attended the indoor event, which was fashioned after the "Promise Keepers" gatherings and featured six main speakers. It also sought to bring together men for fellowship, prayer and worship while allowing them to more fully realize and appreciate their importance in the church, family and community, noted Walter "Bing" Newton, event organizer.
More than 20 men were baptized during the event, said Newton, a former Salem High School teacher and track coach.
In his presentation, "No Compromise, No Retreat," Robertson denounced what he sees as the hypocrisy between many courthouses across the nation removing the Ten Commandments yet having to deal with those who break them. Nearly all defendants who appear in court are there because they stole, committed murder and other violations of the commandments, he explained.
"What in the world has happened to the United States of America? It is pitiful!" shouted Robertson, the family patriarch who founded Duck Commander Co.
Late last year, Robertson came under fire for comments he made in a GQ magazine article in which he called homosexuality a sin and compared it to bestiality, something that angered many in the lesbian, gay, bisexual and transgender community and others, and resulted in his temporary suspension from the show.
During the same interview, Robertson also offended many blacks by saying that he never saw any black people mistreated while growing up in Louisiana before the modern civil-rights movement in the Jim Crow South.
The reality-show star said several times during his talk at the rally that the country has "a sin problem" and that committing sinful acts inevitably separates people from God. Those who accept Jesus Christ aren't immune from wrongdoing, but are cleansed and will be right with God, he contended.
Introducing Robertson was his eldest son, the Rev. Alan Robertson, who warmed up the crowd by making self-effacing jokes about how he's the only sibling without a beard.
Many attendees wore T-shirts that read "Happy, Happy, Happy," after Robertson's autobiography, "Happy, Happy, Happy: My Life and Legacy as the Duck Commander." Others huddled in small prayer groups during breaks between presentations.
Providing much of the music was a 300-member choir from the Men of Faith group.
The rally also featured an estimated 60 ministry tables at which were representatives from the Art of Marriage, Ohio Valley Teen Challenge, Victory Christian School, Heroes & Halos, 95.5 The Fish, a Cleveland Christian radio station, and other entities.
Many men partook of merchandise for sale such as religious-themed books, compact discs and T-shirts, Bibles, small crosses and coffee mugs. Also available were numerous copies of the 1962 bestseller, "The Cross & the Switchblade," a true story by David Wilkerson, a pastor, about his years ministering to New York City street gangs.
Newton, the event's coordinator, said he was pleased with how the rally has impacted participants and attendees. "If God is going to release these men upon the Valley, they're going to make a difference," he added.