Tressel points to team work, student success in UA pitch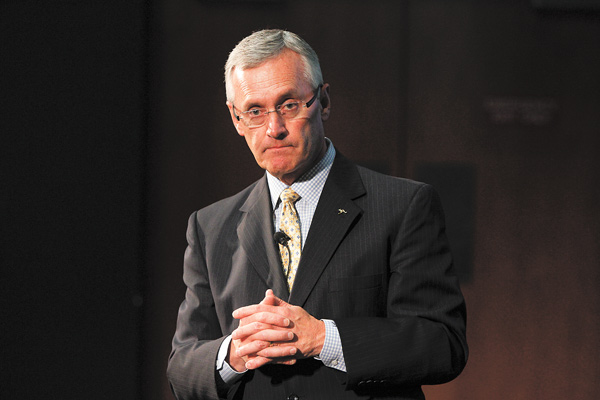 ---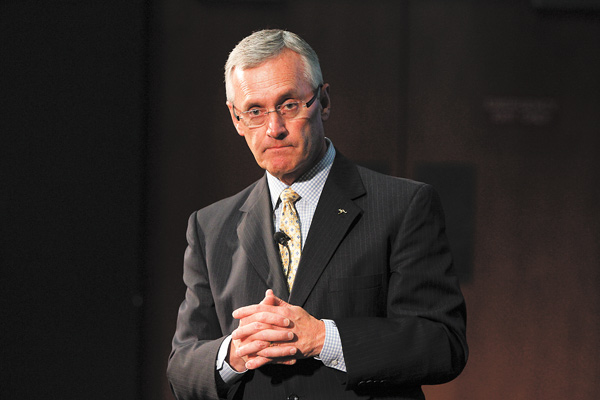 Photo
Jim Tressel, a finalist for the presidency at both the University of Akron and Youngstown State University, explains his plans for UA if he's chosen for the job to a crowd Thursday afternoon inside the Student Union Theatre. Tressel is the former head football coach at both YSU and Ohio State and works as executive vice president for student success at UA.
By DENISE DICK
denise_dick@vindy.com
AKRON
Jim Tressel stressed the importance of selflessness in a university leader, the need to work together and the significance of retaining and graduating students.
He spoke Thursday in a public forum as a University of Akron presidential candidate.
"If we can inspire students to have a passion to learn, they're not going to leave here," Tressel said. "We are going to retain, they're going to complete."
Tressel, the former head football coach at both Youngstown State University and Ohio State, who led both teams to national titles, is a finalist for the university presidencies at UA and YSU. He now serves as UA's executive vice president for student success.
Tressel spoke extemporaneously from the stage, without notes, joking with the roughly 290 people who filled the Student Union Theatre at the university, stressing oneness for success.
"We'll work to be as selfless as possible as we work to be the best we can be," he said.
In other words, in this tough economic climate for higher education, the natural inclination to look out for the self has to be suppressed for the greater good of the whole.
"We're here for student success" and making sure the region flourishes, he added.
One student, who will graduate later this month, thanked Tressel for going "above and beyond" in helping him. The student said he emailed Tressel when he feared he wouldn't graduate and asked for assistance.
Tressel, noting his background is in athletics rather than academics, said if he were to choose a UA provost, that person would have to be selfless and a great communicator. The provost is a university's chief academic officer.
There were no questions about the National Collegiate Athletic Association sanctions that cost him his OSU job or about his lack of academic credentials compared to traditional candidates.
He resigned in 2011 from the OSU job amid a scandal involving players receiving cash and tattoos for memorabilia. He was accused of withholding information from university officials and NCAA investigators.
He also told the UA crowd, "We are all responsible for recruitment," and student retention is the No. 1 financial lever the university has. To ensure young people succeed, UA must give students relevant learning opportunities and make sure students are ready to compete in the world, he said.
The state funding formula is based on graduation rates rather than enrollment numbers, a change from years past.
Akron's other two finalists are Ronald A. Nykiel, provost and vice president of academic affairs at the University of Maryland Eastern Shore in Princess Anne, Md., and Scott L. Scarborough, provost and executive vice president for academic affairs at the University of Toledo. Their forums were earlier this week.
Jonathan T. Pavloff, vice chairman of the UA trustees who chairs the presidential search committee, said the committee was to hear input from constituent groups about the three finalists and then begin deliberating to reach a decision. Deliberations are expected to begin next week.
Pavloff said the fact that Tressel also is a finalist for the YSU presidency won't have any bearing on UA's timeline.
Tressel's YSU forum will be at 2 p.m. Monday in the first-floor meeting room of Tod Hall.
The YSU forums, which follow meetings of the candidates with the deans, unions, faculty and executive staff and a campus tour, will use the same format as last year's when YSU trustees selected Randy J. Dunn as university president.
Dunn resigned after eight months to take the presidency of Southern Illinois University. His last day at YSU was March 21.
The other two YSU finalists, Gary L. Miller, chancellor of the University of North Carolina Wilmington; and Mary Cullinan, president and English professor at Southern Oregon University, will visit YSU and participate in 2 p.m. forums Tuesday and Wednesday, respectively.
YSU trustees plan to meet next Thursday and may select a president but have said an announcement won't be made until a contract is negotiated.
More like this from vindy.com