Fitch High School honors pair of veterans

Photo
Neighbors | Tim Cleveland.Members of the Marine Corp Color Guard walked the United States and Marine flags in before the ceremony at Austintown Fitch High School.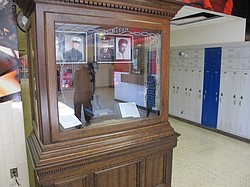 Photo
Neighbors | Tim Cleveland.The display that will be permanently in the main lobby at Austintown Fitch High School honors military veterans Lt. Charles Brown and Sgt. James Prommersberger, both Fitch class of 1962 alumni.
By TIM CLEVELAND
On April 10, members of the community and military veterans met at Austintown Fitch High School to honor a pair of Fitch alumni who gave their lives serving their country.
Lt. Charles Brown and Sgt. James Prommersberger were both members of the Fitch class of 1962 and were memorialized with a display in the school's main lobby.
The memorial was the culmination of an idea that began two years ago.
"We started out about two years ago with our 50th class reunion," said class of '62 memorial committee member Larry Cadman. "We became aware at that time of what these guys had done and we decided that they needed to be memorialized. We came up with an idea with having a granite boulder with a bronze plaque with their names on it. Then the Board of Education got behind the proposal along with the administration gave us tremendous support. The rest of the community jumped on board. What came out of that was a memorial that's now located out on the football field. It became an Austintown veterans memorial that was inclusive if all veterans from all wars.
We finished that memorial and we sat down and we realized that we had gotten off track with remembering our two heroes from our class. We decided to move ahead with a smaller memorial inside the school that we could share with the students every day."
The result was a more than 6 foot tall wooden case that contains both men's senior class and military pictures just before departing for Vietnam. There are the Silver Star and Purple Heart medals that each earned, a bronze statue in a fallen soldier motif. and a citation given to each man posthumously by the president describing their actions on the battlefield the day they died. There is also a bronze plaque with a poem written by Charles Brown's grandson Brennen Kunka talking about the price of peace.
Sgt. James Prommersberger's daughter Kristin O'Neill attended the ceremony. Her husband James designed the wooden display case. She is a special needs teacher at Fitch.
"On his 18th birthday, Oct. 1, 1962, he went into the recruiter's office and signed up for the marines," she said. "He was sent to Camp Lagoon in North Carolina, where I was born, and then was sent off to Vietnam. There was heavy gun fire and many wounded. He went in and crawled on his belly, got 11 men out. He heard a 12th man crying for help. He went in, heard mortar fire coming down, body shielded the 12th man and he was killed. The 12th man [Frank White from St. Louis, Mo.] called me to tell me this. It took many years for him to be able to do that."
Prommersberger had only 10 days remaining in his tour when he was killed on April 16, 1966.
Brown's widow Karen Ruberto said his main focus was making future plans for his family.
"He went in as an enlisted man, went to OCS [Officer Candidate School] to become a Second Lieutenant," Ruberto said. "We were stationed in Kansas and that's where he left from for Vietnam. In Vietnam he had various duties. He didn't talk about the war much. Mainly, we discussed our daughter and what we were going to do as a couple when he came home. He seemed to like the military while he was in. I don't think he would've made it a career, but he did like it.
"He took care of his men. I think that was the most important thing to him was to take care of his men and do the best he could for them."
Brown was killed March 20, 1967, as the last man in his squad. He continued to fire from a bunker that was under heavy fire before being mortally wounded.
Both O'Neill and Brown said they loved the memorial.
"Not only for the fact that my husband [James] built it, my son helped design it, several people were just so generous in offering; the glass was donated, the guy who etched my son's design, the Baird Brothers with the wood," O'Neill said. "The class of 1962 has been relentless to make sure that they will never be forgotten and I cannot find the words to express the gratitude I have for them."
"I love it," Ruberto said. "I think it shows so much of what the community has done together and how they have brought the community together. I think it's been a big, big step."