Event gives students chance to research ancestry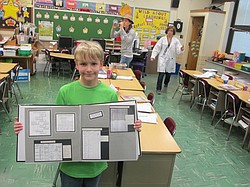 Photo
Neighbors | Tim Cleveland.Stadium Drive Elementary third-grade student Ethan Dunlany held up a book of his family's history during the Ellis Island event.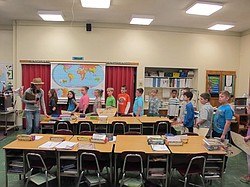 Photo
Neighbors | Tim Cleveland.Third-grade students at Stadium Drive Elementary lined up to "enter America" during the Ellis Island event.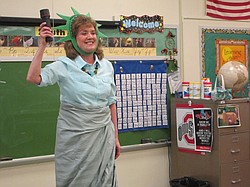 Photo
Neighbors | Tim Cleveland.Third-grade teacher Becky Endsley posed as the Statue of Liberty during the Ellis Island event at Stadium Drive Elementary School.
By TIM CLEVELAND
On April 11, Stadium Drive Elementary third-grade teacher Becky Endsley hosted an Ellis Island event, in which her 36 students in two classes researched their families' history.
"We do a unit in our social studies that is on immigration," she said. "It is one of the common core standards. Through that, we've done this project."
The students made boats out of paper with their country of origin written on the front, They also were encouraged to bring in an artifact from their family history.
With Endsley dressed up as the Statue of Liberty, the children were lined up and grouped together by country. They then stood in front of a parent volunteer who posed as an immigration officer who examined them and either let them pass into America or turned them away. Some of the children were given mock shots against disease or had their names shorten, much like their ancestors had gone through.
"This [process] took for them to go home and initiate a conversation with their families," Endsley said. "They had to find out what their heritage was and to bring that back. I think that was very good for these students because they got a little bit more of a sense of their own identity – where they came from, that type of thing. They found out even in just this small classroom of 16 children, there were 14 different boats represented, which means 14 different countries.
"We also talked about Youngstown. Youngstown is a great area because we talked about the steel mills and what they all brought in. We also talked about how they would cluster into neighborhoods and why they did that. This was the Italian section for Youngstown and this is the Greek section. We talked about how they wanted to live near people who spoke their own language, their own shops and those kinds of things. We real had a lot of different discussion with this, and diversity is something we should celebrate and not be afraid of."
Endsley was asked which students stood out as far as bringing in family artifacts.
"Ethan Dunlany, who had the book," she said. "He brought in the book and showed that type of thing. Also, I had a student who brought in a quilt that his great grandma made. They would bring in some stories that maybe if we hadn't taught this lesson or they hadn't gone home and asked for conversation, they might never have known. I think those are important things to pass down in families."
The book Ethan brought in was a history of his family, from boat lists when his ancestors came to America to pictures and many more pieces of his family history.
"That I came from England and some other places," he said when asked what he had learned from doing the project. "I looked around in this book and saw lots of stuff."