Boardman Park, Greater Life Church host Eggs-Travaganza event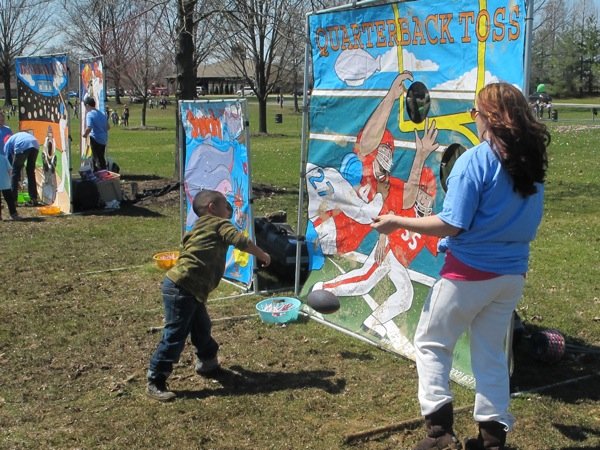 ---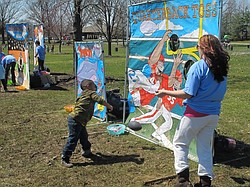 Photo
Neighbors | Tim Cleveland.A child tried to throw a football through a hole in a quarterback toss game during the Eggs-Travaganza event at Boardman Park.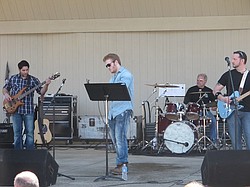 Photo
Neighbors | Tim Cleveland.The band Next Second Chance performed at the Eggs-Travaganza event hosted by Boardman Park.

Photo
Neighbors | Tim Cleveland.A view of just a few of the thousands of people who attended the Eggs-Travaganza event at Boardman Park.
By TIM CLEVELAND
After last year's Eggs-Travaganza event that Greater Life Church hosted on its own attracted 2,000 people, the church was hoping for crowds in the 4,000-5,000 range for this year's event, which was offered April 12 in partnership with Boardman Park.
There were many activities during the event. There was the Easter egg hunt. There were performances by Next Second Chance and the Greater Life Church band, as well as free treat bags for the children, inflatable slides and rides, temporary tattoos, games and food concessions.
"Last year we did it as our own event," said Greater Life Church leader Robert Hanna. "This year, the park came to us and asked to be partners in it. We did that and all the volunteers out it together, the bags with treats for the kids, put the eggs in the field."
For the egg hunt, the children were divided into age groups: 2 and younger, 3-5, 6-8 and 9-12.
Kim Moore of Boardman attended along with her sons Zachary and Nicholas.
"[We came] to come get Easter eggs," she said. "We're going to play games and get some tattoos."
Hanna said there were many benefits of attending the Eggs-Travaganza event.
"The fun of being here, of seeing a church partnered with the community, reaching out," he said. "We want to be a part of the community, to be there for them as a church, to reach out in a loving manner and show them the love of God."