Warren mayor touts capital projects in State of City address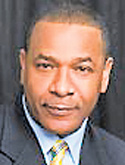 Photo
By Ed Runyan
WARREN
Mayor Doug Franklin highlighted the $10 million in capital improvements coming to city buildings and roads this year, the attraction of an employer and the increased vitality of Warren's downtown during his third State of the City address.
The remarks, given Wednesday in city council chambers, mentioned the bond issue Franklin proposed and council passed that will be used to fix up city buildings that "have outlived their usefulness both for the workers and the public."
Among the buildings to be remodeled are city hall and the central fire station, municipal building and W.D. Packard Music Hall. The $3 million in road repairs will improve the safety of Warren residents "but also give a good first impression to visitors to our community," he said.
One of the best-received parts of his speech was his thanks to Lt. Jeff Cole of the Warren Police Department for his ability to resolve a hostage crisis at the Trumbull County jail last week, after inmates held a corrections officer in a pod for five hours before giving up.
The mayor said law enforcement from the local, state and federal levels took a record amount of narcotics and 132 illegal firearms off the city streets as a result of the "Operation Little D-town" investigation in 2013.
He said water revenue generated for the city by Patriot Water Treatment on Sferra Drive now surpasses the revenue generated by the now-closed RG Steel mill.
A huge success story was the attraction of Laird Industries to a former Delphi Packard plant on North River Road, bringing 145 jobs and a plan to bring 55 more to the city, Franklin said. That will produce payroll of nearly $10 million per year with $3 million more expected over the next three years.
"Those who may think that nothing is happening in Warren have not been to our downtown lately," he said, citing the $2.5 million renovation of the Wean Foundation offices, $1 million restoration of the National Fire Repair offices, and investments in the Hippodrome and Chase Tower.
"A vital downtown is crucial to the heritage, economic health and civic pride of our city — factors that can greatly influence corporate location decisions," he said.
Federal neighborhood stabilization funds were used to demolish 377 houses in the city, and another 151 were removed with a separate state funding source. The city-owned Avalon Golf Course will reopen this June, he noted.
"We may not solve all of our problems. We may not reach all of the goals we set," Franklin said at the end of his talk. "But one thing I know for sure is that in order to continue making progress we need to continue to take advantage of opportunities."
More like this from vindy.com