Youngstowner sends notes to Grohl Alley, message to vandal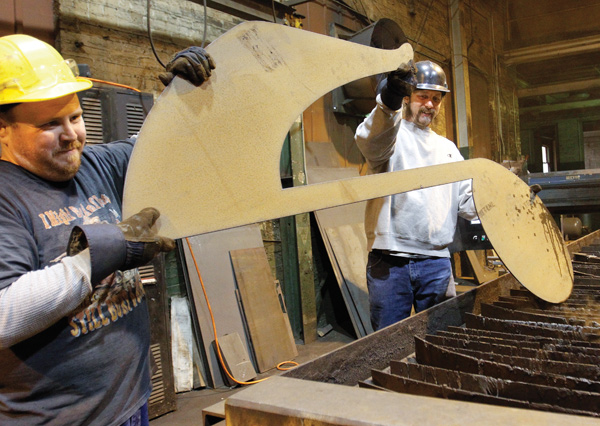 ---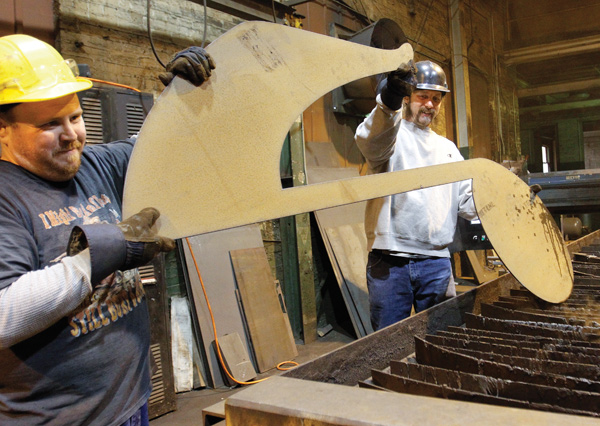 Photo
Randy Scott, left, and Bill King pull a musical note cut from a piece of steel at H.R. Evans Steel in East Palestine, destined for David Grohl Alley in Warren.
By Ed Runyan
EAST PALESTINE
Kenny Greco is a Youngstown South Sider and a musician, so when he learned that someone vandalized paintings and a steel sculpture in David Grohl Alley in Warren on April 5, he was incensed.
"I can't stand when someone does something nice and someone does something to ruin it," Greco said of projects such as gardens in Youngstown or the creation of an art-filled tribute to a Warren-born musician.
Greco is also a "massive Dave Grohl fan," he said, because the former Nirvana drummer and Foo Fighters performer is "real, he's talent. I respect the hell out of him."
So when the founders of the Warren alley contacted Greco recently to ask if he'd supply some scrap steel for musical notes they wanted to add to the alley, he was eager to help.
"Why are there still people who want to ruin something? We'll fix it and make it better than it was before," Greco said.
"I not only wanted it for the [the damage to the alley], but because it was like an invisible middle finger for the people who did it," Greco said.
On Wednesday morning, Greco stopped production briefly at H.R. Evans, a factory his family runs in East Palestine, so his workers could use a plasma cutter and fabricate several music notes on quarter-inch steel sheets.
He provided a couple thousand dollars in labor and materials to produce the notes. About five more notes, along with the lines that make up a sheet of music, will be delivered in a few days.
Warren-Austintown artist Aaron Chine and his father will weld them together into a sheet-music tribute to Grohl, and other creative touches will be added.
It will be installed on the west end of the alley — alongside a 90-foot drive-thru lane for Burger King. It may be a replacement for an "ugly guard rail," or it may be added to the guard rail, said alley founder Joe O'Grady.
The musical notes will be durable, O'Grady said. "It takes four people to carry one note," O'Grady said. The notes are between 5 feet and 7 feet tall.
Greco said he'll enjoy knowing he helped make the alley better and helped send the message that people from bruised towns such as Youngstown and Warren are fighters.
"I can't wait to see this when it's done," he said. "It's going to be really neat."
Police have charged Kurtis Aguilera, 35, of Miami, who has relatives in Warren, with damaging about 10 pieces of artwork in the alley, but he has not been located.