Organization searches for bone-marrow donor match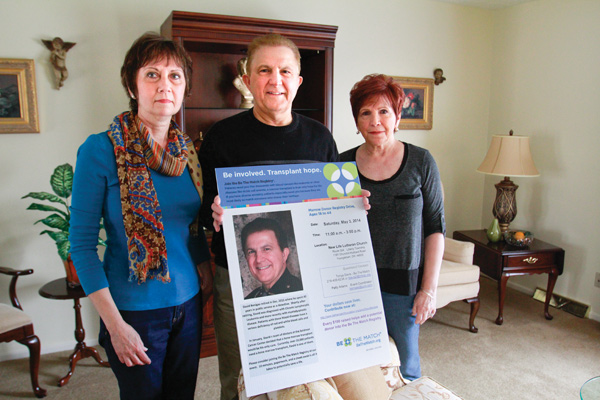 ---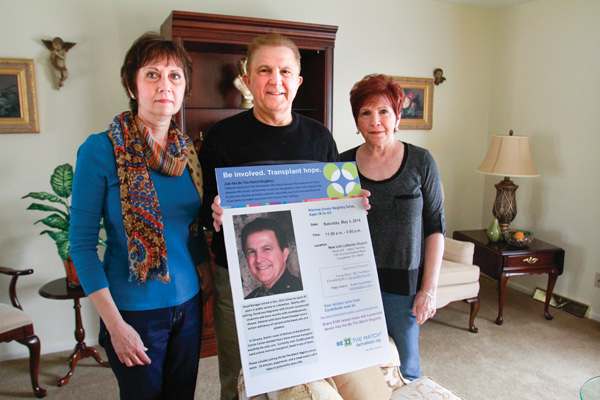 Photo
David Benigas, who is searching for a bone-marrow donor to fight a blood disease, is getting help from his wife, Jennie, left, and his sister, Patty Adams. Adams is organizing a benefit to raise money and register bone-marrow donors for a registry called Be The Match.
LIBERTY
In his years as a detective for the Mahoning County Sheriff's Office, David Benigas never had a case tougher than the one he's facing now.
There are no clues to help him find the answer, just a few facts:
In the United States alone, about 12,000 people a year are diagnosed with one of 70 blood diseases that require a bone-marrow transplant.
He is one of those people.
An organization called Be The Match has compiled a donor registry that includes about 11 million people.
None of them is a match for him.
Be The Match, however, is doing some diligent detective work of its own.
With 200 representatives in 45 centers throughout the country, the organization is painstakingly swabbing cheek after cheek for tissue-typing to add about 485,000 potential donors to their registry every year.
Their objective is to solve Benigas' case by answering the question: Who is his best hope for bringing his myelodysplastic syndrome into remission?
Benigas' family is stepping in to help. His sister, Patty Adams, with support from his wife, Jennie, is organizing a drive to raise money and register donors for Be The Match. It is set for 11 a.m. to 3 p.m. Saturday at New Life Lutheran Church, 1181 Church Hill-Hubbard Road.
The more potential donors they register, the better Benigas' odds are. Despite all the registered donors, the chances of finding a match for him and others who need one are small.
"It's like winning the lottery — that's my win in the lottery!" he said at his home earlier this week. There, with his wife and sister nearby, he recalled his journey from the diagnosis of one blood cancer to the diagnosis of yet another.
About three years ago, he went to what he thought would be a routine doctor's appointment. It turned out to be anything but.
His doctor felt his lymph nodes, which were swollen, and saw that his blood platelets, which are necessary for clotting, were very low. He sent him to a specialist.
The result: He began treatment for chronic lymphocytic leukemia.
About four months ago, he was diagnosed with myelodysplastic syndrome, another blood cancer in which the bone marrow does not make enough healthy cells. His previous chemotherapy for CLL was a risk factor for the development of his present condition.
Now, he said, his CLL seems to be the lesser issue with his doctors.
After his new diagnosis, he was sent to a cancer center in Cleveland, where his doctor decided he needs a marrow transplant. Relatives are the best hope for a donor, but his sister was not a match. He and Jennie discovered a way to find one in Be The Match.
Sitting back on his couch with his legs crossed, relaxed and smiling, Benigas does not look at all sick. But, he said, looks are deceiving.
"I tire easily," he said.
"His resistance is low," Adams said.
"And bleeding — I would have to go to the hospital and get platelets," he said.
He stays positive. "I try not to think about the bad things," he said.
"He's handling it much better than I would," Adams said.