Mahoning Valley teams to compete at global finals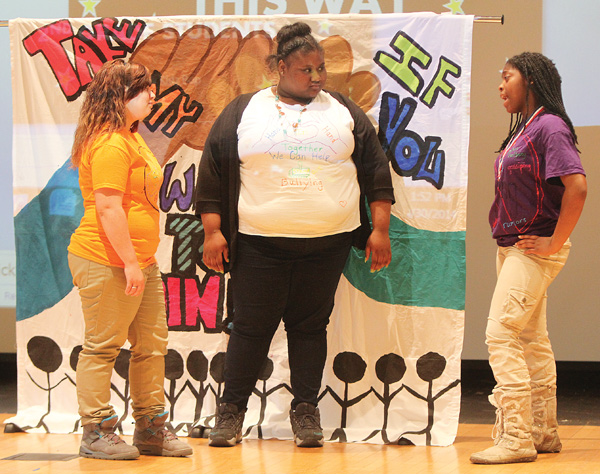 ---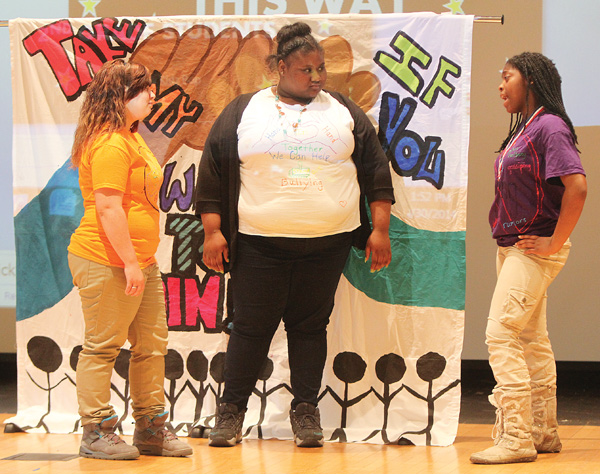 Photo
East High School Destination Imagination team members from left, Cher-Rea Sarbaro, Ta'Wanna Dowd and Michelle Morgan make an anti-bullying presentation at Campbell Elementary School. Their presentation Wednesday focused on how to react if students are the victim of bullying or witness someone else being bullied.
By Denise Dick
CAMPBELL
Three teams from Howland, two from Youngs-town and three from Columbiana schools plan a trip to the Destination Imagination Global Finals in Tennessee after placing at the state tournament last month.
The international event runs May 21-24 at the University of Tennessee in Knoxville.
"This is definitely a banner year," said Cindy Baer, a teacher at Howland schools and the director for the DI region that includes Trumbull, Mahoning and Ashtabula counties.
For the past four years, Howland has sent one team to the global competition.
DI's Global Finals is the world's largest creative-thinking and problem-solving competition for young people. Teams competed in both regional and state tournaments to advance to the global event, which
will include students from around the world.
The Howland Middle School team will compete in the technical event while two teams from the H.C. Mines Elementary School compete in fine art and improvisation. The middle- school team placed first at the state contest, and the elementary teams placed second and third in their categories.
Jeanne Constantino, DI coach for East High School, said this is the first year since 2007 that a Youngstown high school team has gone. Besides East, a team from Youngstown Early College also is planning to make the trip.
Both Youngstown teams placed in the Project Outreach category where they had to identify a community need and develop a skit about it.
East's project delivered an anti-bullying message to fellow students and students at other schools.
On Wednesday, the team participated in an anti-bullying program presented by Catholic Charities Regional Agency at Campbell Elementary School.
Team members include Charde' Woods, Michelle Morgan, Cher'Rea Sarbaro and Ta'Wanna Dowd.
They talked to Campbell second-graders about how to react if they are either the victim of or they witness to bullying. The presented one student with a certificate for being a good citizen and intervening when he witnessed someone else being bullied.
Michelle said they chose the topic because each of the team members has been a victim of bullying themselves.
They open their skit with a description.
"We had the judges in tears," Michelle said.
Stephanie Baylor, a co-manager for two of the Columbiana Exempted Village School District teams, said the district will send one high-school and two middle-school teams this year. Most years, the district sends at least one team.
"The high-school team has three seniors, and this is their fourth year, and two juniors, and this is their third year," she said.
That team and one of the middle-school teams compete in the improvisational category. The other team competes in the structural category.
Besides the creativity, problem solving and team-work involved in the contest, events also involve science, technology, engineering, math and fine arts, Baylor said.
To make the trip to Tennessee, though, the teams have to raise money.
It's $685 per person to cover a hotel or dormitory room, transportation while at the tournament, registration and access to free events at the tournament.
It doesn't include transportation to get there or the pins that students collect and trade with students from other states and countries.
Constantino estimates it will cost about $10,000 for the East team to make the trip as it will have to secure a bus and a bus driver.
Teams plan fundraisers, including the East team selling pepperoni rolls and the school staff raising money through a dress-down day, auction and 50-50 raffle. Constantino also plans to write letters to businesses asking for donations. Donations may be made by contacting the school.
Howland's teams also plan fundraisers at area restaurants and hope for donations to help with the bill, and Columbiana plans fundraisers, too.
Baer said one of the benefits to students of participating is meeting students from all over the world.
"There are kids from Korea, China, Canada," she said. "When they're interacting during those days at the university, they're interacting with kids from other countries, and they are the most outgoing kids you can imagine. They're team workers and problem solvers."