Poland player Nick Rizzo shares private battle to help others
By KEVIN CONNELLY
kconnelly@vindy.com
On the surface, Nicholas Rizzo is much like any other teenager walking the halls of Poland Seminary High School.
Nick Rizzo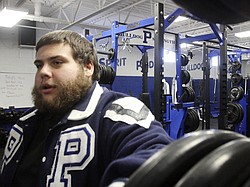 Gallery
Poland senior Nick Rizzo suffers from bipolar disorder which caused him to attempt suicide two years ago.
He's a burly kid who hides an infectious smile behind a beard worthy of "Duck Dynasty" fame.
He's more comfortable in football pads than a science lab.
He'll talk sports for hours with just about anyone. And when it comes to his allegiances, it's the Ohio State Buckeyes and the Cleveland Browns.
Naturally, girls and football are a big part of Nicholas' life.
Meeting him for the first time, you'd probably assume he's your average 18-year-old high school senior.
So it might surprise you that Nicholas Rizzo nearly killed himself two years ago.
IT WILL CONTROL YOU'
Nicholas lives in Poland with his parents, Nick and Joanna Rizzo, and his 12-year-old sister, Natalie. Their house, by Joanna's admission, was always a little different than everyone else's. Her husband, Nick, suffers from bipolar disorder — a psychiatric condition that can cause both episodes of significant depression and high-end manic spells.
The parents were always open with the kids about their father's disorder. Joanna and Nick wanted their kids to understand when — and, more importantly, why — episodes were happening. That gave Nicholas a chance to see from a young age what the illness can do to a person.
Dr. Robert Rowney is a graduate of Boardman High School and has worked with mood-disorder patients at the Cleveland Clinic for 10 years.
"There is definitely a genetic component, but by no means does this mean that parents will pass the illness on," said Rowney, who has studied the genetic tendencies of the illness. "It's just that their children are more at risk compared to the general population."
When Nicholas entered his teens — about the time the signs of a bipolar disorder typically begin to appear — his mother began to suspect some of his issues weren't solely the by-product of teenage angst.
"Teenagers are moody," Joanna said, laughing. "Teenagers say things; teenagers are down sometimes; teenagers are making fun of each other or having a rough time. As a parent, you know, you kind of dismiss a lot of that.
"When he came to us and said he wasn't feeling good, we were probably a little bit more concerned and active in paying attention to what he was saying."
This is where her experiences with her husband paid off. Though some parents couldn't identify depression in their kids, the Rizzos knew better.
By his freshman year, beginning in the fall of 2010, Nicholas was seeing a doctor who was medicating him for his illness. His parents thought they had it under control.
That was until St. Patrick's Day 2012.
'MINUTES AWAY FROM BEING GONE'
It was Nicholas' sophomore year at Poland.
He was more distant than usual. He'd have his good days and bad. One of Nicholas' best friends, Bill Brundage, was among the first to notice the increasingly prevalent bad days.
"I was used to upbeat, friendly-all-the-time ... I could just BS with him" Brundage said.
But that wasn't the friend he was seeing in school anymore. The illness nearly made him give up football too. During summer workouts and two-a-days, he told his mother he didn't think he wanted to play football anymore.
This set off an alarm inside the Rizzo household.
For their son to want to give up the only thing that mattered to him besides his friends and family, Joanna and Nick knew something was wrong.
"Basically what I told him is, 'No, you can't, and that's just how it's going to be'," Joanna said. "He needed that in his life."
On the evening of March 17, 2012, Nicholas and a couple of friends decided to have a bonfire in his girlfriend's backyard in Poland. It wasn't a huge party — maybe a half-dozen people sitting around a fire. By all accounts, everybody was laughing and having a good time.
Seemingly unprovoked, Nicholas got up and left.
He headed to his blue Chevy sedan that was parked out front and sped off.
"I thought about just flooring it and running into a tree — just ending it right there," he said.
He didn't. Just as quickly, he decided to go back.
It was a decision that ultimately saved his life.
Back with his friends, he let out his anger by putting a fist into the side of his Chevy. He also began yelling uncontrollably, scaring his friends.
That's when his childhood friend, Jake Roemer, knew something was wrong.
"At first we didn't know really where he went, so we were trying to find him," said Roemer. "And then once he came back, I knew he wasn't himself, so that's when I figured I had to take him home."
While he was driving Nicholas home, Roemer first learned how much his friend was suffering.
"He had told me here and there about [his bipolar disorder], but I didn't know it was to that level," he said. "I was pretty nervous because I hadn't gone through anything like that before, but I knew I had to be strong to help him out."
As one of Nicholas' best friends, Roemer knew the Rizzos fairly well. But no 16-year-old is ever prepared to tell his friend's parents that their son had just thought about taking his own life.
"Jake drove him home, stood in our doorway and literally spoke for [Nicholas]," Joanna recalled. "Unfortunately, most kids won't take that step like Jake did."
The Rizzos were grateful that he did.
'WHAT KEPT ME ALIVE'
That night, Nicholas was admitted to the emergency room at St. Elizabeth Health Center in Youngstown, where he would spend the night before being moved to Belmont Pines — a treatment facility in Liberty that specializes in adolescent behavioral health.
With Nick suffering his own bipolar issues, he felt it was best that he stayed home and let his wife take care of their son.
"This isn't the first rodeo I've been at, let's put it that way," Joanna said. "I mean, I just knew that as long as he was safe, had a place where he was secure — where he couldn't harm himself — he would get through it."
While Nicholas was in therapy, the only thing on his mind was football. With each bad thought that would arise, he would calm down by reminding himself of his goals:
Play football on Friday nights. Graduate high school. Play college football on Saturdays.
And he realized he wasn't going to accomplish any of those goals by feeling sorry for himself.
"Yeah, I can let myself down, that's one thing," Nicholas said. "But there are 60 other guys that are counting on me to have their dreams come true. If I fail them then, I mean, what kind of person am I?"
Nicholas stayed at Belmont for two more nights to be evaluated. When he was cleared, and before he could retrieve his shoelaces from the nurses, the football player was back in his safe haven — the weight room.
Bulldogs coach Mark Brungard wanted to make sure he hadn't escaped, since he still had the hospital wristband on when he showed up.
"I was like, 'Wow, you literally just drove here?'" Brungard recalls. "He didn't go home, he didn't spend any time really reassessing what he was going to do.
"He knew what he wanted to do, he knew how he was going to attack this."
Football gave Nicholas an escape. An escape not only from his problems, but an escape from himself.
He was simply playing the game that he loved with the people that he loved.
Brungard, who's also a health teacher at Poland High School, said he has always strived to make sure that none of his students ever felt as if he were alone.
"I think for me, my focus was just on interacting with him every day," Brungard said. "Going out of my way to see him.
"So my biggest emphasis was just to get a pulse on him and try to keep a pulse to help [his] mom and dad."
Likewise, mom and dad were intent on Nicholas returning to practice, and that had everything to do with his coach.
"We were pretty careful with him when he came out of the hospital," Nick said about his son. "The one thing we had to let him do was come to football lifting. Coach [Brungard] is great with him — always has been — and I really trusted Mark."
'IT'S AN ILLNESS, NOT A TABOO'
Rowney, in his sixth year in the psychiatry and psychology department at Cleveland Clinic, said there needs to be considerably more research done on bipolar disorder.
Right now it's purely clinical.
So when the Rizzos decided they were going to share their experiences, their hope was to shed some light on the illness and show others that you don't have to hide it – or hide from it.
"That's the reason Nick and I started talking openly about this," Joanna said. "It was, 'Yeah, it might be hard on us, but if we help even one person deal with something that they don't understand, that's one less person that has to go through what he had to.'"
The feedback has been overwhelming. Joanna said she's had people approach her for advice on a family member.
Brungard, who's been a head coach since 2005 at Poland, said it was a bit of a wake-up call when he saw the statistics and learned how prevalent the illness can be among teens.
"It wasn't something that I had a lot of red flags before. But looking back — and that's one of the things you have to learn through these lessons and be more prepared for other cases — you see some things that you could've been a little more on the ball with," said Brungard.
"But because depression's so common, it just doesn't have one face, and it's hard to see sometimes."
Nicholas' friends expressed their own guilt for feeling as if they didn't do enough and looking past what he was going through.
When Roemer dropped Nicholas off at his house that night, Joanna had to reassure him that everything he had done was a blessing.
"Jake felt horrible when this all happened and I was like, 'Jake, you did as much as you could do,'" Joanna remembered telling him. "'You are a teenage boy. There is nothing more you can do except for be his friend and bring it to our attention.'"
'THIS WASN'T AN EXCUSE'
Since the night things began to unravel for Nicholas, he has learned to better use the resources available to him. The biggest one has been his football family at Poland.
He's also accomplishing the goals he set for himself that night while in a hospital bed. Less than five months after being hospitalized, Nicholas was running onto the field on Friday nights as a starter along the Poland offensive line.
First goal: check.
Over the next two seasons, he started all 24 games for the Bulldogs and turned into one of the leaders of the offensive line.
"I think it was a team effort from his family, to his football family, myself, his teachers at school, and that's the way it really should be," said Brungard. "When you're connected to a group like this, you have multiple resources for support to help you."
On June 8, Nicholas will graduate from Poland Seminary High School, and his mother and father are sure to shed a tear.
Second goal: check.
It'll be especially gratifying for his father, who dropped out of high school at 17 as a side effect of his illness.
"He came to me the first time he had a suicidal thought and … it's scary," Nick said. "It's scary having been there and gone through that, to have your son follow with the same problems."
Last month, Nicholas signed his national letter of intent to play Division III football for Baldwin-Wallace University in Berea. It'll be the first time he experiences life outside the Rizzo home, but according to them, it won't be too different from his Poland home.
"It's bigger and different than Poland. But I know they're going to care about me like Poland did," Nicholas said. "It's the same focus. They're out there to win games, absolutely, but they're also there to get me through life."
Third goal: in sight.