Miss Wheeler, Mr. Zehmer plan wedding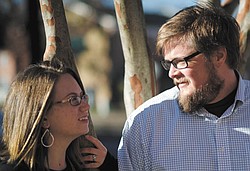 Photo
Andrea H. Wheeler and John G. Zehmer III
RICHMOND, VA.
Andrea N. Wheeler and John G. Zehmer III, both of Richmond, are announcing their engagement.
Parents of the future bride are Larry and Janice Wheeler of Frederick, Md. Larry Wheeler is formerly of Alliance, and Janice Wheeler is formerly of Beloit, Boardman and Canfield.
John G. Zehmer Jr. is the father of the prospective groom. His mother, David Katheryn E. Wilborn Zehmer, is deceased.
The couple are planning to exchange vows Oct. 18 at the Valentine Richmond History Center, where a reception will follow. Invitations will be extended.
The bride-elect earned a bachelor's degree in psychology from George Mason University. She is a vocational counselor for the Choice Group in Richmond.
Her fiancé earned a master's degree in education from the College of William and Mary. He is a manager of Martin's Supermarket, also in Richmond.