Youngstown State's four-man quarterback race still wide open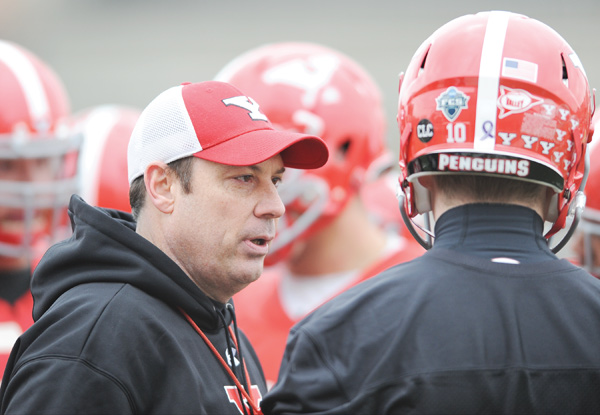 ---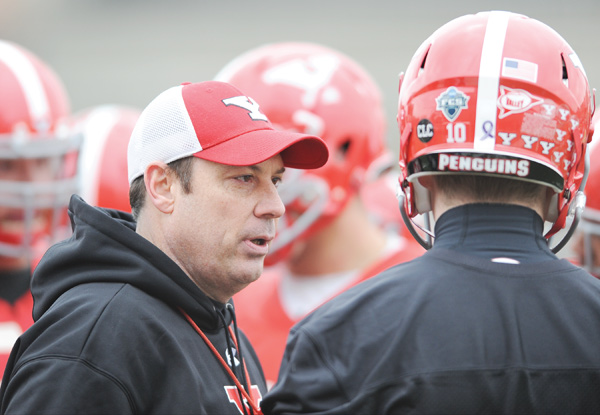 Photo
Youngstown State offensive coordinator Shane Montgomery talks to quarterback Ricky Davis between plays during the team's first practice of 2014 Saturday at YSU's Stambaugh Stadium. Davis, a redshirt freshman, is one of four players battling this spring to replace Kurt Hess as starting quarterback. The competition continued at Thursday's practice, which was the Penguins' first in pads.
Youngstown State's four-man quarterback race still wide open
By Joe Scalzo
YOUNGSTOWN
Thursday was practice No. 3 A.H. (After Hess) and, so far, the only thing clear about Youngstown State's quarterback situation is that it's still very murky.
"One of the things you notice just by observing is we've still got to go back and take some baby steps, like we did with Kurt [Hess] early on," YSU coach Eric Wolford said. "You can see sometimes a guy put together two or three plays in a row and look pretty good and then have a breakdown.
"It's a learning process."
Thursday's practice was the Penguins' first in pads and junior Dante Nania again took the first reps. He gave way to redshirt freshman Ricky Davis, followed by sophomore Tanner Garry and sophomore Nick Wargo. Those four are battling this spring to replace Hess, who started all 45 games the past four years and holds most of the school's career passing records.
Nania (6-foot, 205 pounds) has the most game experience, having played in five games as a quarterback and 22 as a holder on field goals and PATs. He played quarterback in four games last season, completing 11 of 20 passes for 180 yards and rushing 11 times for 35 yards. He injured his shoulder in the loss to North Dakota State and missed the finale against South Dakota State.
"Dante Nania is obviously the guy who's got the most experience," offensive coordinator Shane Montgomery said. "Probably his No. 1 weakness is he's a little bit shorter, but he's got a strong arm, he's a smart player and he runs really well. He's got a good knowledge of the offense."
Garry (6-2, 200), a former walk-on at Bowling Green, transferred to YSU last spring and played in three games last fall, completing 3 of 10 passes for 48 yards and a TD against NDSU after Hess and Nania left with injuries.
"He's got a strong arm and he runs pretty well," Montgomery said. "His biggest weakness is he's still getting a grasp of the offense."
Wargo (6-3, 215), who physically resembles Hess the most of the four, played late in last year's win over Morehead State but has yet to throw a pass in college.
"If I put him on the board, he'd be the smartest of them right now," Montgomery said. "He's got a good grasp of the offense, but he probably has less of an arm of all four of them. His timing [on throws] is pretty good and he still runs pretty well."
Davis (6-3, 190) is the biggest unknown of the four, having seen little action last summer before spending the fall running the scout team.
"He's probably got the strongest arm of all of them," Montgomery said. "He runs really well. He's got good mobility. I think with all of them we're gonna be able to run the quarterback a little more [than Hess] and he gives us a good running threat there. But, again, he's very inexperienced."
Wolford doesn't plan to rotate quarterbacks in the fall — he wants to narrow it to a two-man race, at most, heading into the summer — and he's repeatedly said he wants the starter to do two things: manage the game and avoid turnovers.
The Penguins lost four starters on the offensive line and YSU plans to build the offense around a talented group of running backs, led by Missouri Valley Football Conference freshman of the year Martin Ruiz.
"We have a lot of inexperience that we haven't had the last couple years," Montgomery said. "So there's a lot of guys playing for the first time and I think the thing we're trying to see is consistency in what they're doing mentally.
"Those guys are practicing hard. We don't have to get after them about effort. We just get on them about being consistent and learning the plays."