Students create Garbage Monster Puppets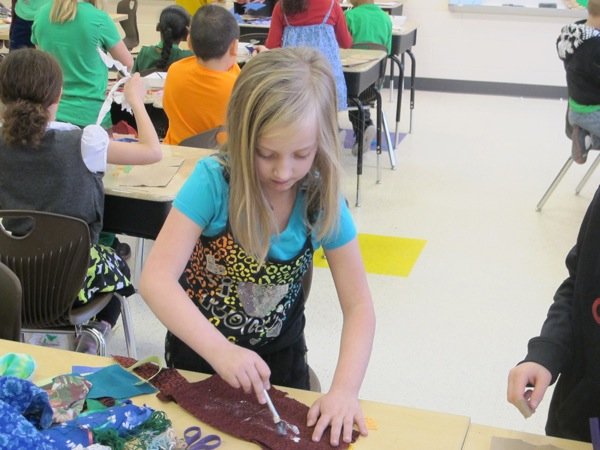 ---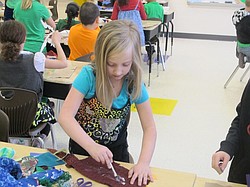 Photo
Neighbors | Tim Cleveland.An Austintown Elementary School students applied glue as she created her Garbage Monster.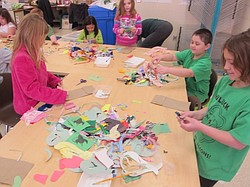 Photo
Neighbors | Tim Cleveland.Austintown Elementary School students selected items to help make their Garbage Monsters.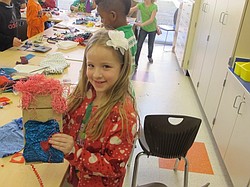 Photo
Neighbors | Tim Cleveland.Natalie Will displayed her Garbage Monsterin Jen Houston's second-grade art class at Austintown Elementary School March 17.
By TIM CLEVELAND
On March 17 in Jen Houston's second-grade art class at Austintown Elementary School, students got a chance to be creative making Garbage Monster Puppets as well as be educated on recycling and conserving.
Houston's 10 classes averaged more than 50 students each. Peg Flynn of The Green Team came in and spoke to students about the organization's motto, "reduce, reuse and recycle."
"Every year, Peggy Flynn comes to my classrooms," Houston said. "It started about two years ago. She contacted me by email and asked if she could come in. I had a fourth-grade class and she started doing it with my fourth graders. She did a recycled fish project with my third and fourth grade over at the intermediate school. She asked if she could come and see our second graders so I said she could."
Each student was given a brown paper bag, a pile of scrap paper, cloth and ribbons, a pair of scissors and glue. They were turned loose to create a Garbage Monster Puppet using the materials.
"The best way to do it with the kids is get them to use their imagination," said Flynn, The Green Team's environmental educator. "You can't have a better way to do it. I do drive my director crazy because every time I find scrap I put them in a box, and now we're up to three boxes. We have fun doing this. Usually I read 'The Garbage Monsters' story about a boy who doesn't like to take out the trash and it takes him out instead. He envisions his whole street covered in trash and then he starts recycling and trying not to make as much trash."
Flynn also advised the students on how to acquire a recycling bin.
The Green Team is Mahoning County's recycling division. The organization promotes making less trash, such as taking a shopping bag back to the store, or using a travel mug. They advise to reuse what you can and then recycle. They also do special collections. In May they will be doing a household hazardous waste collection. At the Canfield Fairgrounds in April they will be doing a compost workshop, for anyone who wants to learn how to compost. The group also does electronics drives and appliance drives.
Flynn was asked the benefits of educating the students at a young age.
"Get them to re-think," she said. "All of this [material used to make the Garbage Monsters] would have been thrown out. Our whole goal isn't as much for them to memorize, is to think. When you get them young, they teach their parents. We always tell them, you nicely teach your parents. If you give them the pound puppy look, a lot of times that works."