Pen pal program encourages friendship, literacy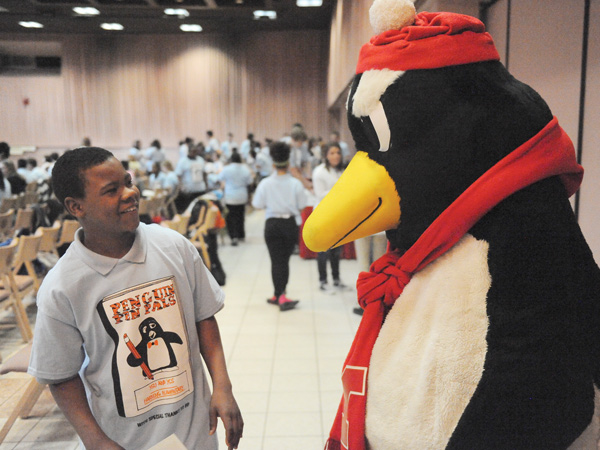 ---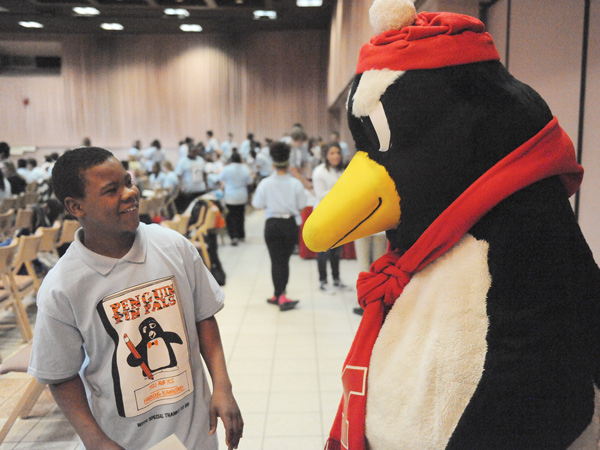 Photo
Harding Elementary School student Martize Daniels hangs out Thursday with Pete the Penguin during the Penguin Pen Pals get-together at Youngstown State University. Students from YSU and Harding wrote to each other throughout the school year and met Thursday.
By Denise Dick
YOUNGSTOWN
Huge smiles crossed the faces of Harding Elementary School students as they crossed the stage at Youngstown State University's Kilcawley Center, hugging and giving high-fives to their YSU Penguin Pen Pals.
Throughout the school year, the school's fourth-, fifth- and sixth- graders have been writing to students in YSU's University Scholars & Honors Program, telling them about their school work, their families and their hobbies and waiting for the older students to write back.
On Thursday, older and younger students met for the first time in the Kilcawley Center Chestnut Room.
This marks the second year for the program, which grew from 63 Harding students to 130 this year.
"It's not only educationally important for students but also from a social and emotional standpoint," said Harding Principal Susan Koulianos.
The students looked forward to getting the notebooks every other week to see what the YSU students had written.
The idea for the pen-pal program came from Dr. Rashid Abdu, a Youngstown surgeon who tutors at Harding. He knew of a similar program at Ohio State University and wanted to start one here.
This year, it expanded through a $10,000 donation from BP, which will allow a Science, Technology, Engineering and Mathematics component to be added.
Fourth-grader Selina Castillo, 9, greeted pen pal Jayne Catlos of Poland, a YSU sophomore, with a big hug.
The two corresponded about what Selina was doing in school and the things she likes to do.
"She wrote in Spanish and then wrote what it meant in pink," Selina said.
Catlos shared some Spanish words and the English translations with her young friend.
YSU sophomore Jacob Schriner-Briggs of Liberty had two Harding pen pals, fourth-grader TreMon Anderson, 10, and sixth-grader LaTroy Ahart, 11.
"I wrote a lot about Easter and how I'm going to an Easter egg hunt in a park and there will be a lot of eggs," TreMon said.
Schriner-Briggs said he enjoyed building a relationship with a younger student through the pen-pal project and having those relationships culminate with the meeting Thursday.
LaTroy said he shared with his pen pal how his classes were going.
"I got 100 percent on my math test," he said. "He said it's good that you're doing good in school."
Kelly Swiger, a fourth-grade teacher, said the biggest benefit of the program is that it gets students interested in writing.
"Students who are difficult to motivate get so excited to get the notebooks and see what their pen pals have written," she said.
It also gets the younger students thinking about college, the teacher said.
Ronald Shadd, a city school board member, got involved with the program before his election.
"It aligns with the curriculum, and it's also doing things outside the box," he said.
The program also encourages multicultural relationships and post-secondary education, Shadd said.