Published: Thu, March 27, 2014 @ 10:15 a.m.
Video Set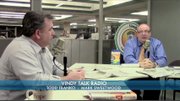 Todd Franko and Mark Sweetwood join Louie b. Free to discuss the latest news about Fracking and Ben Lupo's recent guilty plea.
Vindy Radio will be live from 8 a.m. to 1 p.m. March 27 with host Louie Free. Click HERE to see a full rundown of Thursday's show.
At 10 a.m., we'll have a Vindy News Roundtable with editors Todd Franko and Mark Sweetwood and host Louie Free. Fracking earthquakes, Boardman drug testing and more will come up in the hour. Call in if you'd like to share your opinion— dial 330-333-4454.
Check back Friday morning to see video clips from our Roundtable chat!
Go to vindy.com/radio to listen to the show live, or vindy.com/mobile/vindy-radio to listen from your smartphone.
Click here to listen to the show. Follow @vindyradio on Twitter to interact with us!
Vindy Talk Radio Studio: 330-333-4454