Courtney Walter, Matt Shilling set August wedding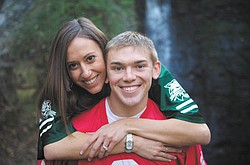 Photo
Courtney Walter and Matt Shilling
Courtney Walter of Dublin, Ohio, and Matt Shilling of Columbus, formerly of Boardman, are engaged, their parents are announcing.
Her parents are Robert and Marie Walter of Westerville, Ohio, and his parents are Don and Amy Shilling of Boardman.
St. Brendan the Navigator Church in Hilliard, Ohio, will be the location of the 2:30 p.m. Aug. 16 open wedding. Invitations will be issued for a reception at Heritage Golf Club, also in Hilliard.
The bride-elect is a graduate of Ohio University, where she received a bachelor's degree in health and consumer sciences. She is a sales administrator for the Hilton Columbus Downtown.
Her fiancé is a graduate of Ohio State University, where he received a bachelor's degree in civil engineering and a master's degree in environmental engineering.
In July he will begin work as an analyst for the Chase Leadership Development Program with Chase Bank in Columbus.