Published: Thu, March 27, 2014 @ 10:15 a.m.
Video Set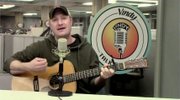 Zach Paxson joins Louie b. Free and Guy D'astolfo to discuss his upcoming album and play a few songs.
Vindy Radio will be live from 8 a.m. to 1 p.m. March 27 with host Louie Free. Click HERE to see a full rundown of Thursday's show.
Zach Paxson of Lisbon is a building up some cred on the country scene. An Ohio lawmaker wants to make Paxson's song "Ohio" the state's official country song. He's finishing a new album. Entertainment editor Guy D'Astolfo joins Louie Free with Paxson at 11 a.m.
Check back Friday morning to see video clips of Paxson's chat and performances of some of his music!
Go to vindy.com/radio to listen to the show live, or vindy.com/mobile/vindy-radio to listen from your smartphone.
Click here to listen to the show. Follow @vindyradio on Twitter to interact with us!
Vindy Talk Radio Studio: 330-333-4454