Mahoning County sweeps Al Beach Classic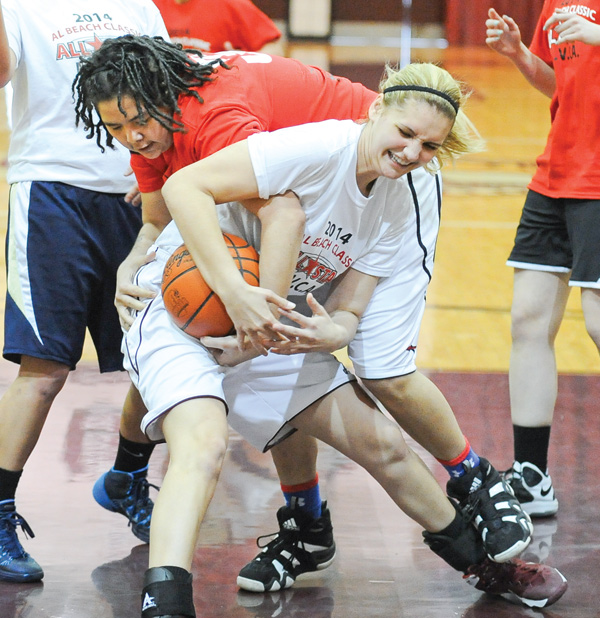 ---
2014 Al Beach High School Basketball Classic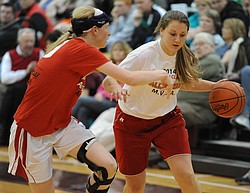 Gallery
Mahoning stars dunk Trumbull
for second straight night
By BRANDON Judeh
Boardman
If you ask any of the participants playing in the 44th annual Al Beach Classic all of them will tell you it feels great to play one last time.
It felt even better for the Mahoning County boys and girls as both defeated their Trumbull County counterparts Wednesday night. Mahoning's boys won, 90-71, and its girls cruised to a 67-39 win at Boardman High School.
Mahoning-based teams also won both games Tuesday night in the Frank Bubba Classic at Howland High School.
The boys game was closely contested throughout as the area's best players traded jabs and laughter.
The Mahoning team led by only one point at halftime, but began to pull away in the second half thanks to two big 3-pointers by Salem's 6-foot-6 Max Wolfgang.
"It felt good to go out there and do that and get the crowd into it," Wolfgang said. "It was a lot of fun because you just go out and play, throw some shots up and have fun. To be able to hit some 3-pointers out there was definitely special and a lot of fun."
Poland's Jacob Wolfe took home MVP honors with his 12-point performance. Ursuline's Paul Jackson scored 10 points and four other players each had eight.
Mineral Ridge's Zac Hagy scored a team-high 11 points for Trumbull. Bristol's Brandon Lee and Badger's Brandon Bates each scored 10.
Hagy said he enjoyed the camaraderie he shared with his teammates and opponents the most.
"It's a lot of fun to take part in an All-Star game like this, when I found out I got selected I was so excited because there's no pressure or anything, you just go out and play with a bunch of guys you grew up playing against," Hagy said.
"There's really nothing quite like it, I'm just glad I got to be a part of it."
LaBrae's Peyton Aldridge took home a slam-dunk title after beating out Liberty's Asim Pleas in a dunk-off. Aldridge also won the dunk contest at the Frank Bubba Classic.
"It was a nice way to go out, winning two dunk titles, but it's all about having fun," Aldridge said. "I got to go out there and try some crazy dunks and have fun watching the other guys compete."
Lordstown's Jake Jones took the 3-point championship.
The girls game was uneven, but Howland's Victoria Rappach stole the show in the 3-point contest.
The sophomore nailed 19 3s in one minute, giving her the eight-point advantage over Fitch's Megan Sefcik. That was good enough to take home the championship.
Sefcik said the competition helped.
"The 3-point contest helped me focus on my shot and I was able to carry that over into the second half," she said. "But I have to give the credit to my teammates, they really did a great job and helped me out there."
She finished with 18 points and was named the girls MVP.
"It's very special to win that award," Sefcik said. "I'm very honored. But what I enjoyed most was playing with all of these girls that I have gotten to know over the years from playing against them."
Mahoning dominated from the start, jumping out to a 15-point lead early and never looking back as Sefcik and Boardman's own Jenna Kuczek dominated the game. Kuczek scored 13 points and United's MacKenzie Gatchel had 10.
Liberty's Leah Leshnack led Trumbull with seven points.