Austintown racino's construction on track
---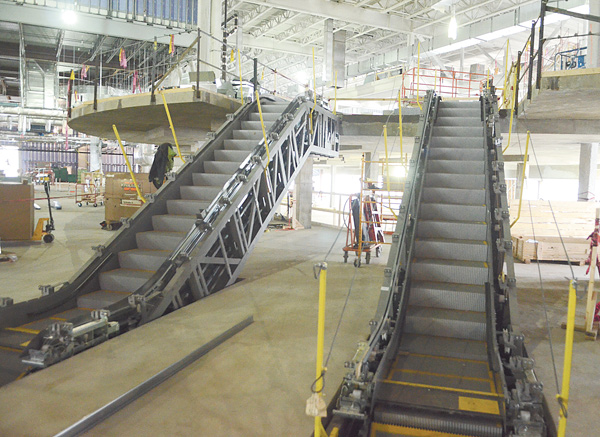 Photo
Escalators have been installed to take patrons from the Austintown racino's main gaming floor to an upstairs sports bar. There also will be a grandstand viewing area for live races in the upstairs section.
By Robert Connelly
rconnelly@vindy.com
AUSTINTOWN
Construction of the Hollywood Gaming at Mahoning Valley Race Course on state Route 46 just off Interstate 80 remains on track, even though outside work had to be put on hold during the harsh winter.
"Exterior work had to be put on hold, but [we're] already grading again," general manager Mike Galle said this week.
Galle gave The Vindicator a tour of the interior work that was done over the winter. Duct work, water lines, metal beams waiting for dry wall, and a lot of the base concrete work could be seen. An escalator has been installed from where the main gaming floor will be to an upstairs sports bar.
The upstairs bar will include TVs for viewing and betting on other horse races across the country and grandstand seating to view live racing.
Galle, who came on board earlier this year, coming from owner Penn National Gaming Inc.'s Hollywood Casino in
Toledo where he was the assistant manager, said the entire back side of the building is glass for watching live racing.
Above the sports bar will be a third level for officials to sit and judge races and television crews to broadcast the races.
The entire gaming floor is a cellular floor, with two-by-two-foot squares used for powering video gambling machines. If the staff needs to move a machine, it can easily plug into another square instead of having to re-drill through the concrete.
There will be a stage for bands to play on with a bar close to the gaming floor.
Underneath the sports bar is another interior space for watching the races and a food court, but Galle hopes to use it as banquet space during the non-racing season. He also said there will be three dining options, but the menus have yet to be decided.
Construction began in June on the $125 million racetrack and casino, which Penn National says will create about 1,000 jobs — direct employees and jobs created by their suppliers.
Bob Tenenbaum, Penn National's spokesman, said he expects the majority of the 1,000 jobs created to be employees of the racino.
The racino has already cleared a few jumps, including agreement with the Ohio Racing Commission and the Ohio Horsemens' Benevolent and Protective Association on the number of horse stalls to be built — settling on 988 in 13 barns.
A date for construction completion has not been set but Penn National expects it will be this fall, said Galle.
Today, the state racing commission is going to take up the issue of live race dates in Austintown. Penn National has planned for 21 races starting in November.
Galle said the next step is to be licensed by the state racing commission and lottery commission.
He said the racino is now hiring members of the executive team and then will be looking at hiring people for the management team.
According to its website, hollywoodmahoningvalley.com, 20 positions are now being filled. Of those, eight are regular full-time jobs, including surveillance manager and internal auditor.
Galle said the next big push for hiring will be in late spring or early summer. There are many workers on the site and Galle said the next hiring phase will have "some different sets of workers. Some will stay on."
Galle said the next step for the exterior work is to build the barns for the horses. Galle said that "a lot of the racing exterior [will] continue on until complete."