Valley ranks near bottom in American quality-of-life index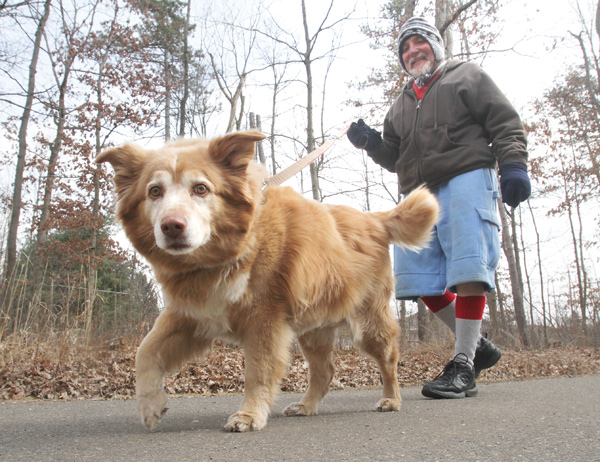 ---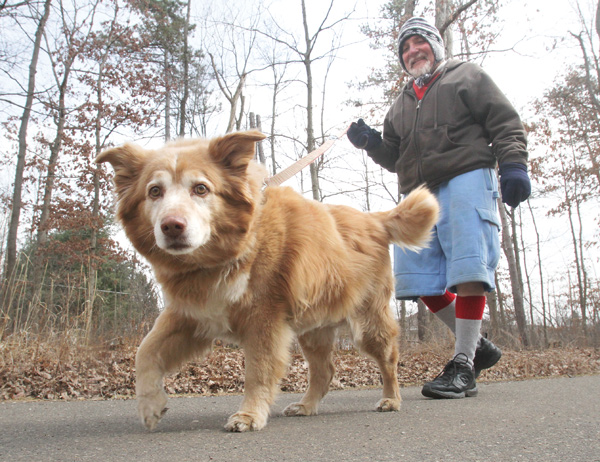 Photo
Jerry Schromofsky and his dog, Missy, walk in Mill Creek Park on Tuesday. Schromofsky, who lives in Youngstown, said he walks for exercise several days a week and also regularly works out at a gym.
By EMMALEE C. TORISK
and JEANNE STARMACK
news@vindy.com
YOUNGSTOWN
When stacked up against other U.S. metropolitan areas, the Mahoning Valley ranks close to the bottom in terms of overall well-being.
The Youngstown-Warren-Boardman area is 175th out of 189 communities surveyed for the 2013 Gallup-Healthways Well-Being Index, which serves as "a barometer of Americans' perceptions of their well-being," according to the "State of American Well-Being" report.
The Provo-Orem, Utah, area ranks first. Last is the Huntington-Ashland metropolitian area, which includes counties in West Virginia, Kentucky and Ohio.
In addition, Ohio ranks 46th out of 50 states in overall well-being.
Well-being "is the combination of many aspects of life" and "is about the interaction between physical health, finding your daily work and experiences fulfilling, having strong social
relationships and access to the resources you need, feeling financially secure and being part of true community," explains author Tom Rath in the report's foreward.
As such, six domains of well-being make up the Well-Being Index: life evaluation, emotional health, work environment, physical health, healthy behaviors and basic access.
Youngstown-Warren-Boardman was at the lower end of the scale of residents who exercise three to seven times a week.
The survey shows that 48 percent of people here do. The highest percentage is Anchorage, Alaska, at 62.3 percent; the lowest is Lafayette, La., at 43.4 percent.
In the report's introduction, James E. Pope, senior vice president and chief science officer for Healthways, and Jim Harter, chief scientist on workplace management and well-being for Gallup, note that information about the country's current state of well-being "gives employers, health plans, heath systems, governments and communities unmatched insight into the state of their populations." It also provides them with the "opportunity to develop and prioritize informed strategies to help their organizations and communities thrive and grow."
After all, as Pope and Harter write, people with higher levels of well-being cost less and perform better — which is advantageous to communities and countries, employers, health plans and health systems, and individuals alike.
Youngstown Mayor John McNally said Tuesday that he believes the area has a strong sense of community.
"The health of our community is something we have to look at," he said. McNally said there are "food deserts" in Youngstown, or areas that aren't served by a grocery store.
A high child-mortality rate is an issue, too, he said. Pregnant women need better access to health care and access to better nutrition, he said.
April is Minority Health Month, and the Youngstown City Health District is participating in a national "Let's Move" campaign, he said. The district will kick off the campaign Saturday from 8 a.m. to 1 p.m. at the Arlington Heights Recreation Center, 801 Park Ave.
Featured will be speakers on preventive health practices, fitness demonstrations and health screenings by the Black Nurses Association.
McNally said there are definitely people in the community who are "challenged" emotionally and financially.
"Overall, I think we have some work to do," he said.
Tom Humphries, president and CEO of the Youngstown/Warren Regional Chamber, noted Tuesday that though he hadn't closely examined the Well-Being Index yet, he and others at the chamber do take such surveys and reports seriously.
"It may be a small sample and an interpretation of an opinion, but it still gives value to us," Humphries said. "If people interpret our region to be that, we want to change that opinion."
He added that the chamber first will evaluate the Well-Being Index and identify what it suggests the area's strengths and weaknesses to be. The next step after this is to share those findings with the chamber's membership base and with its publications.
In addition, the Valley once used to be near the bottom in a number of surveys, Humphries said, but has ascended to the top 10 in many of them.
"Truthfully, we've impacted those surveys by paying attention to them," he added. "It can be reversed."