YSU to extend Eric Wolford through 2016 season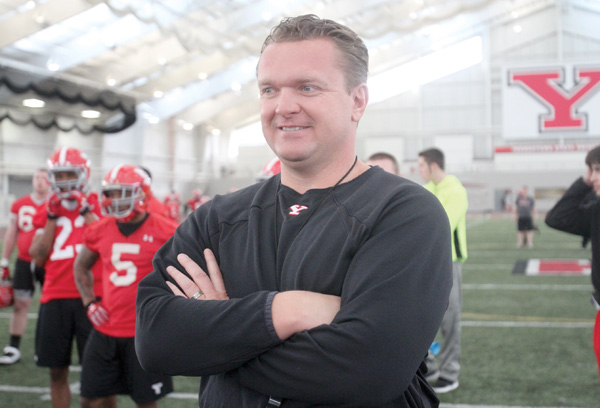 ---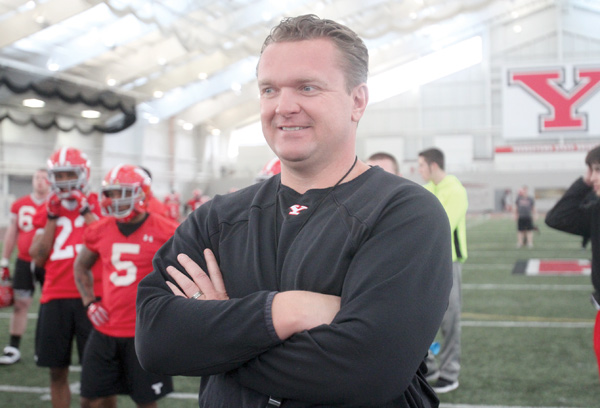 Photo
Youngstown State head football coach Eric Wolford watches Tuesday's practice at YSU's WATTS. Wolford will be overseeing the team for an additional two years once the details of his contract extension are ironed out.
Youngstown State to extend Eric Wolford through 2016 season
By Joe Scalzo
YOUNGSTOWN
Youngstown State will reward Eric Wolford with a two-year contract extension, locking up the football coach through 2016, a source said Tuesday.
Wolford has not signed the contract — the university is still finalizing details with his agent — and he will coach the 2014 season under the terms of his original five-year deal, which he signed in the February of 2010. The extension should be finished in the next 30 days.
Wolford's original contract called for him to make $200,000 per season — thanks to raises, he now makes about $215,000 per year — and receive an additional $50,000 per year in marketing income for things like TV and radio show appearances.
"I haven't had any negotiation or anything with my extension," Wolford said following Tuesday's practice. "All that stuff's done with my agent. I'm sure we'll get something resolved and when it's resolved, I'll sign."
YSU athletic director Ron Strollo announced plans to extend Wolford in mid-January. Wolford is 24-21 in four seasons but has increased his win total each year, including an 8-4 mark last fall. The Penguins have missed the playoffs by one game each of the last three years.
"If you continue to improve and do things right, good things happen," Wolford said. "I can't control whether a committee decides to put us in [the playoffs] or not. It's not my call."
Still steaming
Youngstown State started last season 8-1 before losing its last three games to Northern Iowa, North Dakota State and South Dakota State.
"Obviously we're disappointed with the way the season ended after such a hot start," senior tight end Nate Adams said. "It was one of those shots to the stomach, something we don't ever want to have happen again. That's why we're working hard now on the field and in the classroom and in the weight room, doing everything we can to get an edge."
When asked how long it took for him to get over it, Adams said, "I'm still not over it. I'll wait until we get into the playoffs next year to get over it."
Junior defensive tackle Steve Zaborsky agreed, saying the last month left a bad taste in the players' mouths.
"To start out hot and go 8-1 and come up short like that, we can't let that happen again," said Zaborsky, a Fitch High graduate. "We just had our [postseason] banquet and to let the seniors go out the way we did, it's kind of disheartening because that's what we remember."
QB competition close
YSU's four quarterback candidates have split reps fairly equally through the first two practices and each has had his share of good and bad plays. Senior Dante Nania, sophomores Tanner Garry and Nick Wargo and redshirt freshman Ricky Davis are vying to replace four-year starter Kurt Hess.
"It's a wide-open race," Wolford said. "We want to give everyone an opportunity. I kind of get the sense here early on that some guys are pressing, trying to win the job in one day and that's not going to happen. We're looking for consistency, someone who can manage the football game.
"The guy who can consistently do what we ask him to do and not turn the ball over is going to win the job."