Seafood Fest lives up to it billing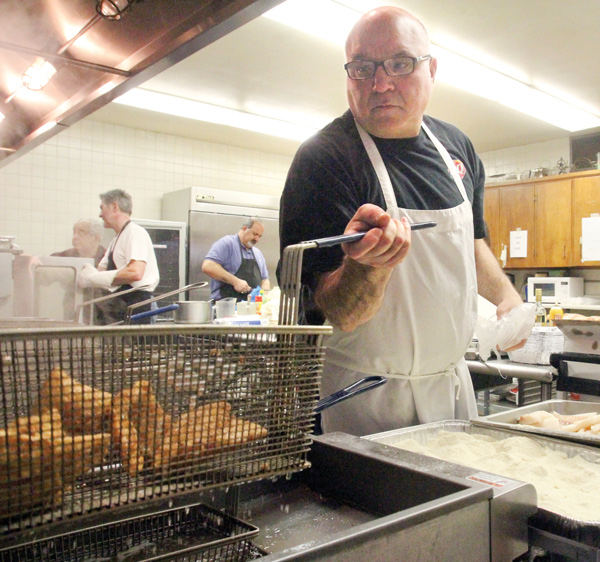 ---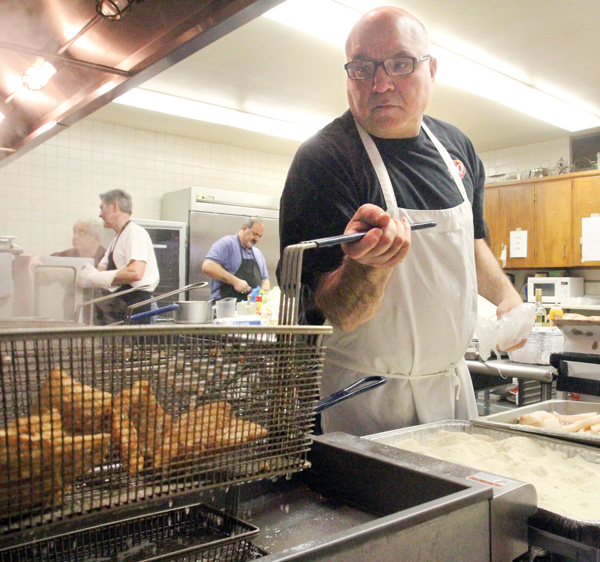 Photo
Dean Paidas of St. John the Forerunner Greek Orthodox Church makes sure fried fish is done to perfection at the Seafood Fest. He is among the 40 to 50 church members who volunteer at the Lenten project. The fest is Fridays through April 11.
By LINDA M. LINONIS
BOARDMAN
Billed as "more than a fish fry," the Seafood Fest sponsored by St. John the Forerunner Greek Orthodox Church delivers on its claim.
The seafood selection will have you thinking you're at a restaurant and not a church hall.
Coordinators are Plato Kalfas, Phil Passas and Kali Sprankle.
It started out as a fish fry in the 1980s, said Passas, current church president. In 2003, the coordinators decided to make a change.
"We wanted to be more original," Passas said. "We thought if we added Greek cuisine, it would attract more people. Once they came, we had them hooked."
The church sponsors the Seafood Fest on Fridays during Lent. It averages about 600 people weekly.
"It's all about the food," Passas said. "From the comments we get, customers are impressed with what we offer," he said. "We have a big variety, and it's quality."
Plaki is baked fish with Greek-style tomato sauce. The baked roll-ups of phyllo dough, stuffed with spinach and crab, are another offering.
"What we offered as specials now have become standards," Kalfas said about some of the menu items. "Advertising and word of mouth have helped."
To offer the Seafood Fest, it takes about 40 to 50 church members to make it happen. Kalfas and Passas said the fest routine is established. On Mondays, orders are placed. Preparation work is done Tuesday through Thursday; some side dishes are prepared in advance. The seafood is made fresh on Friday.
At the fest, volunteers cook, serve, be cashiers, seat customers, do clean up and handle takeout.
"What I like is when the kitchen really gets going and people are lined up," Kalfas said.
"It's a lot of work, but it's for the church." Kalfas said.
He started helping at the summer Glendi, and it's carried over to the Seafood Fest.
Passas credited Dan O'Neill, a member, with the recipes.
"He loves to cook and is creative," Passas said of the former restaurant owner.
Men do the majority of the cooking, though women are in the kitchen, too.
Some who cook have restaurant experience.
That expertise also helps in meeting and maintaining health department requirements. Sprankle said the church must "meet all requirements for cleanliness and food safety." Spot checks are made.
"Organization is key," Passas said of the church project. "People tell us the food is terrific and reasonably priced."
He added there are quite a few repeat customers in addition to newcomers weekly.
Sprankle, a church member for nine years, said she got interested in the project to be "involved in the church."
She added she wanted the church and its members to know her family and her family to know the church.
"It's satisfying to see smiles on faces," Sprankle said of fest patrons.
Sprankle said the fest, though, does more than sell food.
"It's a way of sharing Greek culture and our religion with the community," she said.
As patrons dine, Greek music plays in the background.
Fest customers also can indulge in Greek pastries and breads, most baked by Eugenia Pontikos.
To non-Greeks, the names are tongue twisters, but the universal language is delicious.
Koulourakia, butter-twist cookies; paximadia, spicy biscotti; kataifi, shredded phyllo dough with honey; galaktoboureko, a custard dessert; and loukoumathes, Greek doughnuts, are among choices.
"I love the church and want to show it," Pontikos said. "This is my way of helping to support the church."
George Zografides, a lifetime church member, is the master doughnut maker. He learned the technique from his grandmother and mother and has been making doughnuts, also called honey puffs, about 25 years.
"There's no guesswork," he said, noting he always measures ingredients. "Making the dough just right is part of it," Zografides said, adding cooking the doughnuts at the correct temperature also is essential.
He makes about 80 dozen, and they usually sell out.
"Opa," an expression of joy, is the feeling well-fed fest patrons have.