DiFrancesco, Shives power Mahoning to sweep of Trumbull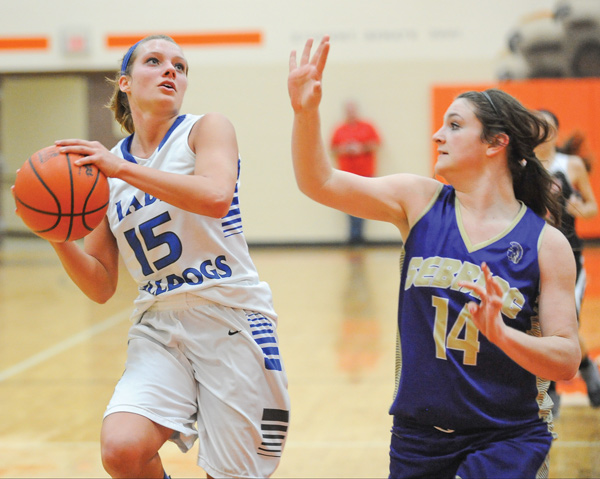 ---
2014 Frank Bubba Memorial Classic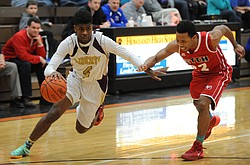 Gallery
DiFrancesco, Shives power
Mahoning to sweep of Trumbull
By Steve WILAJ
HOWLAND
Mahoning County basketball has the upper hand on Trumbull County. Barely.
The Mahoning girls defeated the Trumbull girls, 67-65, in the opener at the Frank Bubba Classic at Howland High School. The Mahoning boys then closed out the event with a 101-96 overtime thriller.
Austintown Fitch's Alex DiFrancesco scored seven of his game-high 29 points in the extra period to lead the squad to victory. For his efforts, he was named the team's Most Valuable Player.
"I don't usually score that much," DiFrancesco said. "We had a point guard [Jessie Driver] that lit it up this year and I usually do the dirty work."
So for a change, it was DiFrancesco who lit it up, connecting on 14 of 16 shot attempts. Although his playing days with the Falcons have been over for a few weeks, Difrancesco said he's still been taking reps in the gym while training with his younger brother.
"When that first 3 went in, I started to feel it," he said. "It was nice to relive some of the glory and get out there and play with the guys."
Canfield's Cole Pryjma added 21 points, Youngstown East's Terrell McClain scored 12 and Fitch's Quincy Higgins added 10.
Trumbull forced OT when Girard's Jimmy Standohar connected on a 3-pointer with 1.3 seconds remaining to tie the contest at 92. He finished with seven points, while Liberty's Asim Pleas scored 12 and LaBrae's Peyton Aldridge and Warren G. Harding's King Garner added 10 apiece.
But Matt Seitz of McDonald earned MVP honors for Trumbull as he paced the team with 14 points.
"It was a blast to be out there," Seitz said. "It was very competitive — the best of the best of the counties competing. I was feeling it after a couple shots and I got my chance to shine, so I did."
He added that the experience is just something else he'll always remember from his high school basketball days.
"Going to the district championship and playing in this all-star game means so much to me," Seitz said. "Coming out here and getting an MVP just feels great."
Struthers' McKenna Shives stole the show in the girls game as she led a Mahoning comeback victory with 18 points in earning MVP honors.
"I didn't really know what to expect coming into one of these games, but it was really fun to play with everyone from around the area," Shives said. "I'm really honored and blessed to have this opportunity and be named MVP."
Boardman's Megan Volosin and Pymatuming Valley's Geena Gabriel added nine points each for the Mahoning squad.
Shives tied the contest at 62 with a 3-pointer with 1:29 remaining. Gabriel's layup then gave Mahoning a two-point advantage and another layup by Fitch's Cassie Custer iced the contest.
"It was really good that it was competitive towards the end," Shives said. "It's that competitive drive with our whole team. We just really wanted to go out there and win it."
Bree Bishop of Girard paced Trumbull with 17 points to earn team MVP honors. Howland's Gabby Cvengros added 13 points while Lakeview's Alli Pavlik scored nine.
The event also featured 3-point contests. Freshman Antonella LaMonica of Warren JFK won the girls division while Champion's Chris Miller won the boys.
Aldridge won the slam dunk contest. He hurdled a Vikings teammate while connecting on a dunk to earn the highest score from the judges.
The Bubba Classic honors the memory of the late Frank Bubba, the former Warren G. Harding High School basketball coach.