Church center's van takes vets to docs, grocery, appointments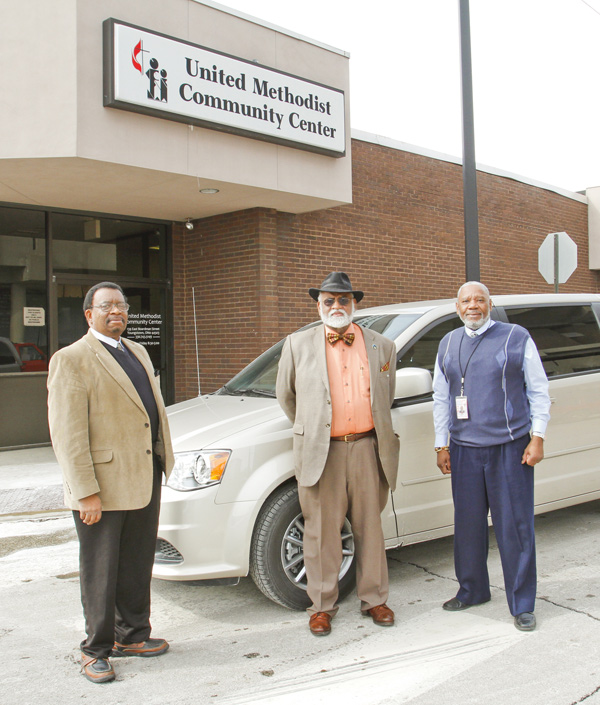 ---

Photo
From left, Joseph Hightower, Robert Faulkner and Lyudee Womack stand in front of a new van purchased with grant money by the United Methodist Community Center to transport veterans to appointments and help eliminate barriers to jobs.
YOUNGSTOWN
Veterans in Mahoning and Trumbull counties have another transportation option to get to the grocery store and their medical and other appointments connected to getting and keeping jobs.
The United Methodist Community Center has dedicated a second van to veterans that can transport seven to nine riders. The 2014 Dodge van was purchased with a $50,000 grant from the Honor Project Trust in Ohio.
The center demonstrated a need for transportation among homeless veterans in its Ready Workforce employment program to receive the Honor Project grant, and with part of the funds purchased the new van, said Juanita Pasley, the center's executive director.
The van also will assist veterans in overcoming barriers to successfully becoming trained for relevant jobs, and seeking and keeping employment, Pasley said.
The funds remaining after the purchase will support a part-time driver and the cost of operating the van over the next year, she said.
Two of the community center's board members who were instrumental in getting the second veterans van, Robert Faulkner of Warren and Joseph Hightower of Liberty, are military veterans and retirees of Delphi Packard Electric.
Faulkner, board chairman, served in the Army in Southeast Asia from 1965 to 1969. Hightower served in the Navy in 1971 and 1972 as a corpsman aboard the USS Little Rock, a guided-missile carrier.
A passion for veterans is another thing they have in common.
"I'm definitely involved because of veterans," said Hightower, who is president of the AARP Unit of Youngstown and membership chairman for the Youngstown NAACP Unit 4611.
After retiring from Delphi, Faulkner, a 24-year member of the Warren City Schools Board of Education, said he wanted to devote his time to children, seniors and veterans.
"It's great to get a grant, but grants are not forever and we always have the goal of programs becoming self-sustaining," Faulkner said.
One of the big things about the Vietnam War era was how veterans were accepted when they returned home, said Hightower, a 1965 graduate of South High School.
"Some came back to jobs that were no longer there," he said.
As the United Methodist Community Center began to serve homeless veterans through its Veterans Ready Workforce program, which coordinates community services for veterans, it was discovered that transportation is the biggest barrier to getting services and employment, said Pasley.
That triggered the decision to buy a new van to go along with the first veterans van purchased in 2008.
The program also involves community groups and veterans-focused organizations and places veterans in training programs to prepare for employment. Staff members include a job coach and case managers.
"The Ready Workforce program brings hope to veterans and reduces barriers," she said.
Another way the Community Center has helped homeless veterans connect with social services and employment information was the Mahoning and Trumbull County Regional Veteran Stand Down last year.
The event, funded with a grant from U.S. Department of Labor, provided veterans with haircuts, a hot meal, health screenings and information. There also were a variety of vendors, including the YWCA of Youngstown, Youngstown State University Office of Veterans Affairs, Youngstown Metropolitan Housing Authority and the Help Hotline Crisis Center.
Looking ahead, the Community Center is gearing up to provide services for the pending big contingent of veterans leaving the military, many of whom will be females.
The new paradigm is women veterans, said Faulkner.