Chloe Perkins, Americo Fraboni plan June rites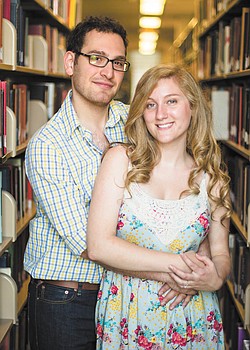 Photo
Americo Fraboni and Chloe Perkins
EAST PALESTINE
Robert and Barbara Perkins of East Palestine are announcing the engagement of their daughter, Chloe Perkins, and Americo Fraboni, both of New York City.
He is the son of Angelo and Michelle Fraboni of New York City.
The couple have chosen June 27 as the date for their 5:30 p.m. wedding at the Omni William Penn Hotel's Urban Room in Pittsburgh. The hotel's Grand Ballroom will be the site of the reception afterward. Invitations will be extended for the wedding and reception.
The bride-elect graduated from Carnegie Mellon University's Dietrich College of Humanities and Social Sciences with a degree in creative writing and English. She is employed in an editorial position for Simon & Schuster Children's Publishing in New York City.
The prospective groom graduated with a degree in chemistry from Carnegie Mellon's Mellon College of Science. He is an adjunct lecturer and research chemist for the City University of New York - Brooklyn College.