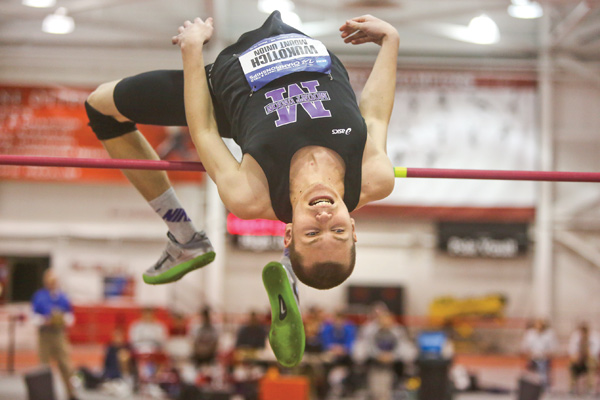 ---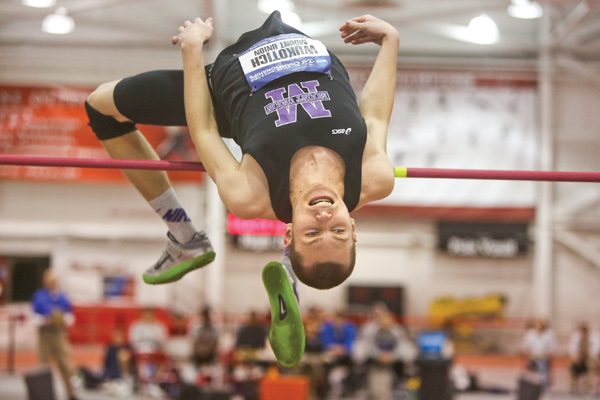 Photo
Mount Union freshman Zach Wukotich jumps over the high bar at the NCAA Division III 2014 Indoor Track & Field Championships on March 14 in Lincoln, Neb. Wukotich, of Salem, earned All-American honors for the first time with a fifth-place finish.
Mettille, Wukotich succeed for Mount Union
By Greg Gulas
ALLIANCE
During what he terms a "less than stellar" scholastic athletic career, Canfield's Tyler Mettille admits that he didn't have the drive nor motivation he currently possesses as a member of Mount Union's record-setting indoor and outdoor track and field squads.
On the other hand, Salem's Zach Wukotich never seems satisfied with his effort.
After leading the Purple Raiders to a fifth-place finish and earning All-American honors at the recent NCAA Division III Indoor National Championships at the University of Nebraska, both have set their sights on the outdoor portion of the season, which will begin Saturday at Marietta College.
With 18 Top-4 finishes to their credit, the Purple Raiders have produced 264 All-Americans since 1964.
"Tyler is one of the easiest, yet one of the hardest athletes I have ever coached," Mount Union coach Kevin Lucas said. "It doesn't take a lot to motivate him and once he knows what he wants he just goes right after it.
"He would go through a brick wall to accomplish his goal and is such a pleasure to coach," Lucas said. "The success of our team is directly attributed to players like Tyler. He just needs to pull back some time."
A junior, Mettille earned his fourth All-America honor as a member of the national champion and school record-setting 4x400 meter relay team (3:13.48).
Wukotich, a freshman, recorded a fifth-place finish in the high jump (6-8.25) for his initial honor.
Mettille is also a two-time national champion and has been named the Great Lakes Region's "Outdoor Track Athlete of the Year." He also is the Mount Union record holder in the indoors' 200, 400, 4x400 relay, 4x200 relay and heptathlon, and the outdoor 400 meter hurdles and 4x400 relay.
Not bad for someone who despite earning four track letters in high school failed to qualify for state or set any school records.
"I didn't accomplish very much in high school, but one of the most important factors for me back then was being part of the Youngstown Striders AAU Track & Field club team in the summer," Mettille said. "We were coached by David Townsend and I really believe it was a reality check to my track and field future.
"The coaching and support that I received from the Striders was unbelievable and I know I would not be where I am today without that program."
Mettille said his success in the past two seasons can be directly attributed to Mount Union's coaches.
"After winning a national title in the hurdles I was hungrier than ever, but rather than celebrate and take time off I realized that I had an opportunity to accomplish bigger goals than I had ever thought before," Mettille said. "I know that my International competition and Olympic dreams can only come true if I put everything I have into training so day-in and day-out there is nothing right now that I'd rather be doing."
Wukotich's decision to attend Mount Union was easy as his mother works there. The Purple Raiders' track success was a bonus for the 2013 Division II state high jump runner-up.
"Kevin [Lucas] is a great head coach and always there when you need him, however, assistant coach Chris Collister oversees the high jump and he has been a tremendous help since day one," Wukotich said. "We started from scratch as he devised a brand new weight program, set up a work-out schedule and because of that, I can honestly say that I would not have gone to nationals had it not been for his coaching and guidance."
Wukotich has added 10 pounds to his frame since the fall, qualifying for nationals the second week of the indoor season at Otterbein University.
He posted a collegiate best 6-10.25 at their Jim Wuske Invitational on Feb. 8. His goal remains very simple as he casts an eye toward the upcoming outdoor season.
"I feel as though I could have done better," Wukotich said. "My immediate goal for outdoors is to make it to nationals and finish in the top five. By the end of the season, however, I hope to clear seven feet."
Lucas added that Wukotich is a player who strives to always get better and as a freshman, has come a long way since the fall.
"I was thinking that Zach would be pleased with his fifth-place finish at indoor nationals, but he wasn't," Lucas said. "That's a testimony to his drive and competitive nature. Zach really does have the ability to become a national high jump champion."