Ben Lupo pleads guilty in the dumping of oilfield waste into Mahoning tributary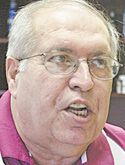 Photo
CLEVELAND
Ben Lupo has pleaded guilty in the dumping of oilfield waste into a Mahoning River tributary.
Lupo entered his plea this morning before Judge Donald C. Nugent of U.S. District Court, who will sentence him June 16.
Lupo, 62, of Poland; his company, Hardrock Excavating LLC; and his employee, Michael P. Guesman, 34, of Cortland, were charged with violating the Clean Water Act.
On Thursday, Judge Nugent sentenced Guesman, who had pleaded guilty last Aug. 29, to three years' probation and 300 hours of community service, but imposed no fine or restitution on him.
The available sentencing range for the charge is probation to three years in prison, followed by a year of supervised release, and a fine up to $250,000.
Guesman said he dumped brine and drilling mud from 20,000-gallon storage tanks on Salt Springs Road in Youngstown down a storm drain and into the tributary at Lupo's direction on 24 nights beginning Dec. 12, 2012.