Mr., Mrs. Myers mark 60th year of their marriage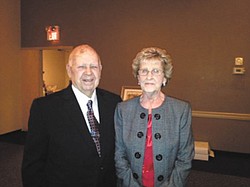 Photo
MCDONALD
Fred and Eileen Myers of McDonald celebrated the 60th anniversary of their wedding March 8 at a party by invitation at the Fifth Season Banquet Center in Mineral Ridge.
Hosting the festive occasion were the couple's four daughters, Debbie (Rick) Lewis, Denise (Ken) Walls and Kim (Mark) Witkoski, all of McDonald; and Tammy (Gary) Shells of Mineral Ridge.
The couple have seven grandchildren.
Mrs. Myers, who is the former Eileen Killin, is a homemaker and a Sunday school teacher.
Mr. Myers worked as a foreman for U.S. Steel in McDonald for 30 years and for RMI in Ashtabula for 12 years before retiring in 1992. He served in the Army from 1951 to 1953 and worked at the general headquarters in Tokyo, where he was a clerk type specialist.
The Myerses were married March 6, 1954, at Woodland Park United Methodist Church, where they are members.