Morgans' 60th anniversary honored at Tara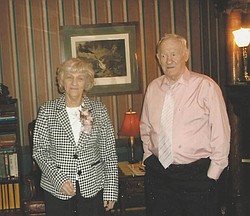 Photo
Mr. and Mrs. Jack L. Morgan
HUBBARD
Mr. and Mrs. Jack L. Morgan of Hubbard were honored Feb. 22 for their 60th anniversary at a dinner at Tara, a Country Inn, in Clark, Pa., which included a surprise limousine ride to the dinner.
The event was hosted by their children, Karen and Tom Whiteford and Terri and Ed Hensperger, all of Hubbard, and Jack and Patty Morgan of Austintown.
Grandchildren are Michael Whiteford and Chrissy (Mike) Mattessich, and great-grandchildren are Nicholas and Celina Mattessich.
Mr. Morgan married the former Marge Pernick on Feb. 20, 1954, at St. Mary Church, Windber, Pa.
She is a homemaker.
Mr. Morgan worked in the coupling department of LTV Steel in Campbell and retired in 1991.
He is a U.S. Navy veteran and served during the Korean War.
The couple are members of St. Thomas the Apostle Church in Masury.