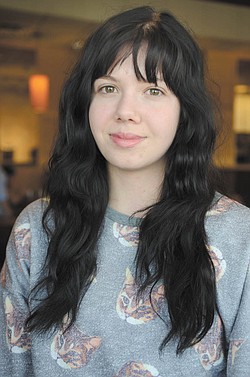 Photo
Hayley Shasteen of Berlin Center is a 16-year-old photographer who doesn't like to follow conventional rules regarding photography techniques. Photo by Katie Rickman | The Vindicator
By Sean Barron
CANFIELD
It might be easy to dismiss the photograph of Hayley Shasteen's face partly covered with split-pea soup, darkened eyes and dyed hair as macabre or creepy.
But such a perfunctory assessment would miss the underlying meaning.
"The real issue is bulimia, especially with teenage girls," the 16-year-old Berlin Center girl explained about the image. "A lot of people disregard [the illness]. I wanted to get someone's emotions going on that topic."
Dark undertones, combined with a deeper meaning, is a recurring theme that runs through many of the Western Reserve High School sophomore's photos. The same can be said about Hayley's poetry and short stories, she contends.
Hayley spoke recently at Panera Bread on U.S. Route 224 about her love of art and photography, which started budding when she was a young child. As a result, Hayley has posted more than 300 of her photos on Instagram and has thousands more on her computer, by her own estimate.
"I've always been creative. When I was younger, I was very imaginative," she recalled, adding that Edgar Allen Poe is one of her influences.
Also on hand were her parents, Ron and Deb Shasteen.
Hayley listed among her passions self-portraits and fashion photography, such as that in Vogue magazine, and said she is considering photography as a career. One of her long-term goals is to attend the Savannah College of Art and Design in Savannah, Ga., she said.
Hayley said she doesn't like to follow conventional rules regarding photography techniques; instead, she often uses low shutter speeds and, when she thinks it's necessary, will intentionally give some of her pictures a grainy, dissonant look. She's also not afraid to experiment a bit and let her hair down — literally.
To that end, she recently used a scanner for a picture that shows her face in one corner and her hair scattered, combined with leaves and several Queen Anne's lace flowers that seem to radiate from space, a technique she calls "scanography." She recently placed the photo in an 11-inch-by-14-inch frame.
Hayley also embarked on a photography project as part of her local 4-H club, she said.
One of her works received added recognition when it won a red ribbon during last year's Canfield Fair for having finished second in the computer-art category, Hayley said with pride.
"I enjoy helping her with her hair, makeup and props," said Deb Shasteen, a certified occupational-therapy assistant at Boardman Medical Park.
"I'm very proud of her," added Ron, a truck driver for ABF Freight System Inc. in North Lima, who bought his daughter a specialized Canon Rebel T-3I camera and lens for her birthday and Christmas.
When she's not busy with camera in hand, Hayley probably is spending time entertaining several nonhuman family members and engaging in additional pursuits.
"We have seven horses, a donkey and chickens," Hayley said, adding that she also loves to read and watch "offbeat" movies.