Memorable Meals to show the Valley's melting pot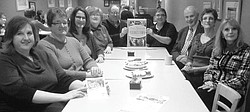 Photo
SPECIAL TO THE VINDICATOR Those involved in preparing for Memorable Meals Mahoning Valley are, from left, Leann Rich, Mahoning Valley Historical Society education/external relations manager; Cynthia Beckes O'Connor, Melting Pot Memories blogger/writer/historian; Elsa Higby, Grow Youngstown founder/director; Shelly Covert, Mahoning County Soil & Water Conservation district; Tom Welsh, author/historian; Jack Kravitz, Kravitz Deli owner and Grow Youngstown board member; Dr. William Cleary, MVHS board president; Cheryl Lewis, MVHS campaign director; and Elayne Bozick, Eranco business broker, Grow Youngstown board president and MVHS board member.
Staff report
YOUNGSTOWN
Hosted by Grow Youngstown and the Mahoning Valley Historical Society, a new event will showcase the Valley as an important food destination in Northeast Ohio.
Memorable Meals Mahoning Valley ... Homes and Restaurants is scheduled from 2 to 5 p.m. April 27 at the Tyler History Center, 325 W. Federal St., downtown.
Title sponsors of the event are Schwebel's, 21 WFMJ-TV, and The Vindicator.
Tickets cost $40 per person. To purchase them call 330-743-2589 or visit www.mahoninghistory.org, or www.growyoungstown.org.
The event will highlight the Valley's food traditions while embracing its diverse ethnic heritage. It will bring together family food customs and special foods of old and new Valley restaurants. The occasion also will emphasize the importance of growing our own food, based on appreciation of the Valley's agricultural roots.
At Memorable Meals, patrons will find a variety of activities: samples of classic Valley foods and drinks, including beer and wine from local wineries and breweries, photos and recipe displays of memorable family meals and a presentation by local historian and writer Tom Welsh.
Welsh will discuss his research and facts he has come across in preparing a book that he co-wrote with Gordon Morgan, "Classic Restaurants of Youngstown." Also featured will be a preview of upcoming books about Valley food traditions and restaurants.
Some of the restaurants that will participate are Avalon Downtown, Kravitz Delicatessen, Cassese's MVR, Saratoga, Blue Wolf, Handel's, Jimmy's Italian Food Specialties and Garland's BBQ.
Key sponsors include: Mahoning County Soil and Water Conservation District, PNC Bank, Harrington, Hoppe & Mitchell, American Maintenance Services and NYO Property Group.
Proceeds will benefit Grow Youngstown's efforts to boost local agricultural activities and the Tyler History Center's development of new education and community outreach programs.
For information about the event contact Kimberly Urig at 330-318-6225 kimurig@hotmail.com; Jack Kravitz, Memorable Meals chairman, at 330-759-7889 or kbagels@aol.com; or Cheryl Staib Lewis, MVHS campaign director, at 330-219-1246 or clewwis@mahoninghistory.org
5-Star Title sponsor, $2,000:
• Eight tickets, mention in all media, fliers and tickets, full page color ad in program
• Two-minute welcome address by company representative
• Cookbook recognition and event signage
4-Star Presenting Sponsor, $1,000:
• Six tickets, mention on select media, fliers and tickets, full page black and white ad in program
• 30-second address by company representative
• Cookbook recognition, event signage
Entree Sponsor $500:
• Four tickets, mention on fliers and tickets, half page ad in program
• Cookbook recognition, event signage
Dessert Sponsor $250:
• Two tickets, mention in flyers, quarter page ad in program, event signage
Cocktail sponsor $100:
• One ticket, one-eighth page ad in program
Appetizer sponsor $10 to $99:
• Listing in program
Attendee:
• Purchase tickets only at $40 per person.