Delta Sigma Theta plans prayer meal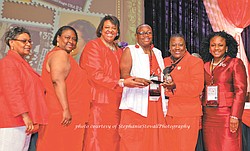 Photo
SPECIAL TO THE VINDICATOR Members of Delta Sigma Theta Sorority, Inc., from left to right, are Gwendolyn Montgomery, immediate past president of the local chapter; Crystal Davis, Arts and Letters chairman of the local chapter; Cynthia Butler-McIntyre, immediate past president of the national sorority; Lynette Miller, social action chairman of the local chapter; Regina Harper, Midwest regional director; and Dr. Michelle McCollin, president of the local chapter.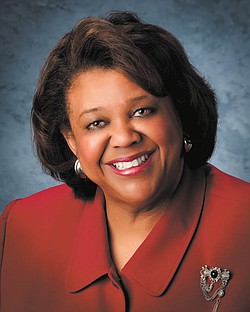 Photo
Staff report
BOARDMAN
Youngstown Alumnae Chapter of Delta Sigma Theta Sorority, Inc., will sponsor a prayer breakfast April 5 at The Georgetown, 5945 South Ave.
The doors will open at 8:30 a.m., and the event will commence at 9. Tickets cost $25 per person, and the breakfast is open to the public. The event is a fundraiser that helps to finance the sorority's scholarship gifting fund.
Music will be part of the festivities, and Cynthia M.A. Butler-McIntyre, the immediate past national president of Delta Sigma Theta, will be the guest speaker.
The theme for the breakfast is Called to Serve: Using Our gifts to be in Service to Others.
Butler-McIntyre, who was president for five years, made a global impact for women's and children's issues, nutrition, education, political awareness, physical and mental health and international issues.
Founded 101 years ago, Delta is based on Christian values. Butler-McIntyre exemplifies those values, because her life is a testimony of sacrifice and commitment while she served under extreme pressure.
She is affectionately referred to as "a leader with a heart." President Obama has appointed her to serve on several national boards of directors.
Butler-McIntyre is a lifelong resident of New Orleans.
For information email Dr. Sherri Lovelace-Cameron at srlovela@cc.ysu.edu.