Union Elementary School hosts Family Science Night

Photo
Neighbors | Tim Cleveland.Union Elementary students gathered inside the science bubble to learn about rain forests.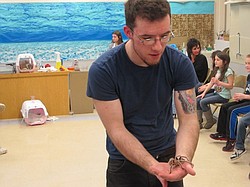 Photo
Neighbors | Tim Cleveland.Adam Bodendorfer of Harbor Pets showed students a tarantula at Family Science Night.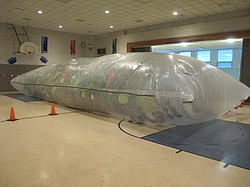 Photo
Neighbors | Tim Cleveland.There was a 20 foot wide, 60 foot long and 10 foot high science bubble that filled the Union Elementary gym at Family Science Night.
By TIM CLEVELAND
Eight years ago, Union Elementary Principal Mike Masucci built a science bubble out of plastic that he duct taped together. Measuring 20 feet wide, 60 feet long and 10 feet high and seating 50 people when fully inflated with air by fans, it has come in handy when he wanted to get students' attention.
On March 11, he was able to put it back into action at Union's Family Science Night.
"I think that it's a great way to have the children become excited about what it is you want to talk about," he said. "It's something different. Very few have seen it before. Just that wow factor. You hook them right away and keep their interest.
"It's a great way to get parents into the building. They can interact with the teachers, myself. In the end, everybody wins."
Masucci added that he felt the event was a success.
"I think it allows the kids an opportunity to know that their parents value their education," he said. "When we had 51 of our 55 second-graders here tonight I think it speaks volumes for the kind of supper we're lucky enough to have here in the Poland schools."
When the parents and students filled the science bubble, Masucci played Youtube videos and showed slides relating to the rain forests. The children giggled at the singing animals on the screen, before the slides got into the serious issue of rain forest depletion.
In addition, Adam Bodendorfer from Harbor Pets brought in a pair of dogs, a lionhead rabbit, guinea pig and a tarantula.
"He's talking about their habitats, whether they're predators or prey, where they come from, what they're dependent upon," Masucci said.
Mr. Tom from Mobile Productions also gave a presentation on the power of air.
"I think we take it for granted because we can't see it a lot of times, but he has a great presentation on its impact on our daily lives," Masucci said.