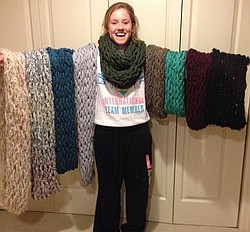 Photo
Neighbors | Submitted.A Canfield High School student is shown displaying scarves made by using an arm knitting technique.
By Marissa Phillips and Sarah Sittig
The brutal winter we have had here in Canfield has sparked many new indoor hobbies, such as knitting, crocheting and a Pinterest favorite: arm knitting.
Out of nowhere, girls all throughout Canfield High School began wearing these handmade scarves.
Canfield alumni Karli Weller, graduate of 2011, started making scarves just two months ago and learned the technique very quickly.
"My interest in crocheting sparked around Christmas time when I was shopping for some scarves online at a shop called Etsy," she said.
It has been a work in progress for Weller, but she is quickly gaining experience and popularity as an entrepreneur.
"At first, I could not even do the simplest stitch, but after practicing and making little things, I really caught on to it," Weller added.
Weller hand-makes items like scarves, hats or beanies, headbands and fingerless gloves, and advertises her products by promoting her Instagram account 'hkdup,' which shows customers what the products look like and the price of each scarf.
"It's a hobby that I for sure will continue to do because it's really enjoyable for me. I love being able to make things for people that they love, and no one will have a scarf identical to yours."
Sophomore Lily Hodge started making her scarves around Christmas time.
"I needed something to make for my friends for our gift exchange," said Hodge.
After realizing her interest in making the scarves, Hodge too made it a business.
"I sell them to kids at school and family friends," she said.
The hobby has reached many people and has taken on many different forms. Seniors Kelsey Yankush and Paige Bidinotto have a particular interest in arm knitting.
"We originally started doing it because we liked them for ourselves, but then we realized we could sell them and make money," Bidinotto explained.
Visit the CHS news site at canfieldcardinal.com for more articles and videos produced by the Cardinal news staff.