Penn-Ohio Singers perform at Shepherd of the Valley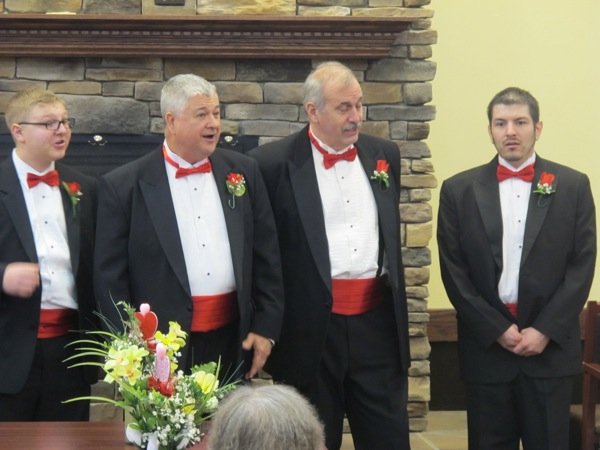 ---
By TIM CLEVELAND
Some of the traditional things someone can do for their loved one on Valentine's Day are to buy them, candy or flowers, or take them out for a night on the town. One thing that can be done that doesn't immediately come to mind is to hire a barbershop quartet to sing to them.
That was the case on Feb. 14 at Shepherd of the Valley's Boardman campus, located at 7148 West Blvd., where the Penn-Ohio Singers were brought in to sing to the residents of the facility.
The group consists of lead Ed Johnson, of Warren; bass Mark Ostheimer, of Sharon, Pa.; tenor Rich Dombrosky, of New Castle, Pa.; and baritone Chuck Davis, of New Castle.
For the performance at Shepherd of the Valley, Dombrosky was unable to sing due to laryngitis. He was replaced by 16-year old Jonathan Lang. He is a district medalist with the quartet "The Men of Independence."
The group sang a repertoire of six traditional Valentine's songs and a selection of traditional barbershop melodies for a total of nine songs.
"We put on a program that lasts a good 30 minutes," Johnson said. "We sing all the traditional Valentine's songs. We engage the group in a sing-along of 'Let Me Call You Sweetheart.' We also throw in some barbershop tunes reminiscent of their youth."
One resident among the approximately 30 who attended the performance was Salem native Evelyn Phillips.
"Oh, I liked them," she said. "They were very good."
In addition to performances like the one at Shepherd of the Valley, the group also hires itself out to sing to individuals. They have four quartets working throughout the area and do 60-65 performances a year.
"Most of them are for wives and girlfriends, although occasionally like this year, we do sing to men," said Johnson, who has been the singing Valentines chairman for the Penn-Ohio Singers for the past 20 years.
The Penn-Ohio Singers have been delivering Singing Valentines for more than 25 years to residents of Trumbull and Mahoning counties in Ohio and Lawrence and Mercer counties in Pennsylvania. The chorus has been chartered by the Barbershop Harmony Society since 1982.
"We advertise locally after the new year and our schedule fills up quickly," Johnson said.
Anyone interested in booking the Penn-Ohio Singers can call either Ed Johnson at 330-565-1996 or Al Wilkes at 330-726-9019.