Imagined abilities now real, Kaku tells Stambaugh crowd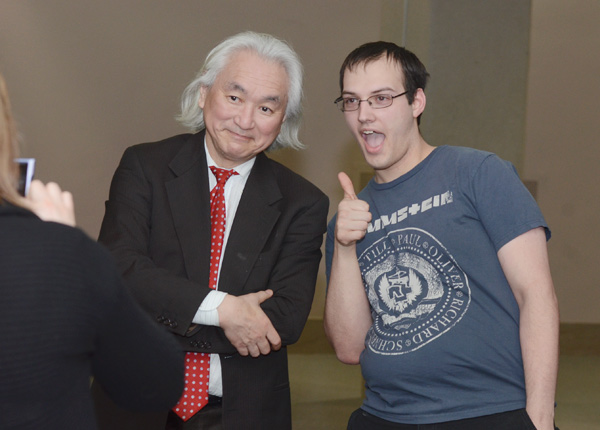 ---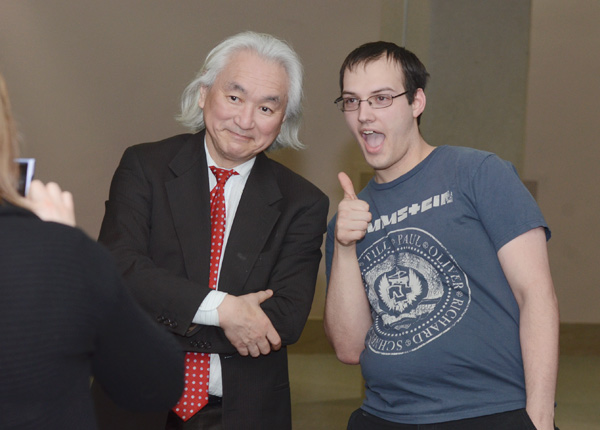 Photo
Physicist Michio Kaku poses with YSU student Dan Gallo of Hubbard before speaking to a group of students Thursday afternoon at Stambaugh Auditorium. Kaku also spoke Thursday evening to an audience at the historic North Side auditorium.
By JOE GORMAN and DENISE DICK
jgorman@vindy.com | denise_dick@vindy.com
YOUNGSTOWN
Advancements in technology are enabling us to use our brains in ways once seen only in movies, says world-renowned physicist Michio Kaku.
For instance, he said,
researchers at Johns Hokpins University have been able to outfit a man with an artificial arm that can function like a real arm. And thanks to
researchers from Brown University, a paralyzed woman also has a robotic arm that
allows her to perform tasks such as drinking from a glass.
Acclaimed physicist Stephen Hawking and others who are paralyzed are able to type on a computer by the use of a computer chip in their brain, which translates their thoughts to the computer screen. A dime-sized chip is placed on the brain to enable that to happen, Kaku told a packed crowd Thursday night at Stambaugh Auditorium.
When asked if that hurts, Kaku said the brain does not feel pain.
"The brain has no pain sensors," Kaku said.
"It is the most complex object in the known universe," he said.
Physics and computers have taught us more about the brain within the last five to 10 years than ever before, he said. And that knowledge is beginning to bring formerly only imagined abilities to reality.
Technology now exists to map the brain and even detect if someone is lying or telling the truth by the amount of activity inside the brain.
"You can see thoughts ricocheting around like a ping-pong ball in the living room," he said.
In the talk laced with as much humor as science, the author and frequent television guest spoke as part of Youngstown State University's Skeggs Lecture Series. He is a regular guest on "CBS This Morning" and other television shows, has hosted science programs on the BBC and the Discovery Channel and has written several books, including "The Future Of The Mind," released in February and now a New York Times best seller.
Earlier Thursday, Kaku, the Henry Semat Chair in Theoretical Physics at the City University of New York, spoke to a group of Youngstown State University students, telling them while his high-school classmates were spending Christmas break shopping and caroling, he was building an atom smasher in his mother's garage.
"It blew out all of the fuses in the house," he said.
Kaku decided he wanted to be a scientist when he was 8. His elementary-school teacher came into the classroom, telling students that the greatest scientist had just died.
"It changed my life," he said.
He remembers a photograph of the scientist's desk in the newspaper with an unfinished manuscript. That scientist was Albert Einstein, and the unfinished manuscript was "the theory of everything." Kaku made it his pursuit to complete that theory.
"It was an equation one-inch long and it was reading the mind of God," he said.
Kaku is co-founder of string-field theory, a major branch of string theory, which is the leading candidate today for the theory of everything.
String theory is almost science fiction, he said. It sees 11 dimensions.
"Only in other dimensions do we have enough room to unify all forces of nature," he said.
Kaku referred to the discovery this week proving the universe expanded immediately after the Big Bang.
"Our universe is a bubble, and the bubble is expanding," he said. "The new wrinkle in all of this is there could be other universes."