HBA holds 63rd annual home and garden show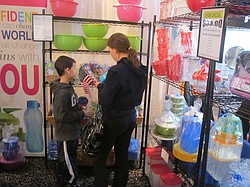 Photo
Neighbors | Tim Cleveland.Terri Fine and her son looked at items in the Tupperware booth at the HBA Home and Garden Show at Mr. Anthony's on Feb. 22.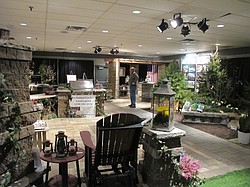 Photo
Neighbors | Tim Cleveland.Participants had a look inside the greenhouse room at the HBA Home and Garden Show.

Photo
Neighbors | Tim Cleveland.Todd Alexander (right) talked to a potential customer in the Great Day Improvements booth at the HBA Home and Garden Show.
By TIM CLEVELAND
For anyone with an interest in home repair, or anyone needing some work done on their home after a tough winter, there was an opportunity to see the best the area has to offer, as the the Home Builders Association of the Valley held its 63rd annual Home and Garden Show at Mr. Anthony's in Boardman Feb. 21-23.
HBA Director Jennie Brewer said more than 100 booths were set up in the banquet facility with companies representing all aspects of the home-building and -repair fields. She first said she expected more than 10,000 people to come through over the course of the weekend, but she added that was a conservative estimate.
"I do anticipate this being a strong year, more on the ends of 13-14,000 people," she said. "Ten thousand is on the low end of what we've had, but everyone is tired of this brutal winter we've had and today (Feb. 21) I cannot believe, we've just opened the doors at noon, and we've already had a steady stream through here. It's going to be a strong weekend."
Brewer was asked some history of the event.
"The HBA Home and Garden Show started out at Canfield Fairgrounds," she said. "It was out there for years and years. Then after that, we kind of went to a couple different places. We landed here at Mr. Anthony's a couple years ago. It is the prime venue for our home and garden show. It's the perfect size, it's clean, it's professional with fabulous parking. Our vendors absolutely love the venue and the consumers do, too."
One of those vendors was Tim Bowell, the general manager of Acworth Construction, which is based on Youngstown and specializes in roof repair.
"We've been at the HBA four years," he said. "It starts our season off pretty well. We get a lot of roofing leads off this – decks, additions. It's a good time of year. People are looking at what they can get done. We show our portfolio, what we've done. We give a little background on the company, the owner, myself, as well as our crews, the warranties we offer."
A vendor making a longer trip to Boardman was Debbie Martin, a marketer for Universal Windows of Bedford.
"We love coming here," she said. "We've been here for many years. We sell, windows, doors and siding. We love it here. It's a very nice show."
One of the many people who went to the show on the first day was Jackie Yocum of Champion. A first-time attendee, Yocum was asked what prompted her to make the trip to the show.
"The terrible weather and the home and garden show just sounded like something that would be springy and refreshing and new and perk me up a little bit," she said. "It's really nice. It seems like they have a good varsity of things to look at, outside, inside. Home products; a little bit of everything."
More like this from vindy.com