Canfield wrestlers capture third EOWL title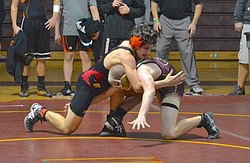 Photo
Neighbors | Submitted.Dom Cooper (left) stopped his opponent's takedown. Cooper won the match for first place.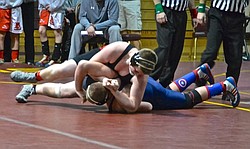 Photo
Neighbors | Submitted.Alex Maxin drove his opponent to his back in the finals.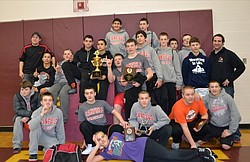 Photo
Neighbors | Submitted.Canfield Middle School wrestling team celebrated its third straight EOWL tournament championship.
The Canfield Middle School wrestling team finished in first place at the Eastern Ohio Wrestling League tournament Feb. 7 and 8 at Liberty High School. The team scored 242.5 points and finished 32 points ahead of second place Austintown Middle School.
Six tournament champions paced Canfield to their third straight middle school EOWL tournament championship. Winning titles for the Cards were Eric El-Hayek, Nathan Whitehead, David Crawford, Dominic Cooper, Daniel Kapalko and Alex Maxin.
Several other placers were key in keeping the Cards ahead in the team race. They were runners-up Dom Gelonese, Tyler Stein, Michael Dudash (fourth place), David Reinhart (sixth place) and Aiden Burscak (sixth place).
David Crawford was named the tournament MVP for the upper weights.