Lupo worker gets probation for dumping brine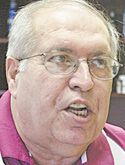 Photo
YOUNGSTOWN
The man who pleaded guilty to dumping oil-field waste into a Mahoning River tributary late in 2012 and early in 2013 has been sentenced to three years' probation and 300 hours of community service.
U.S. District Judge Donald C. Nugent in Cleveland imposed the sentence Thursday on Michael P. Guesman, 34, of Cortland, but did not impose on him any fine or restitution.
Guesman pleaded guilty Aug. 29, 2013, to one count of violating the federal Clean Water Act by dumping brine and drilling mud down a storm drain.
Guesman's boss, Ben Lupo, 62, of Poland, and Lupo's company, Hardrock Excavating LLC, earlier pleaded not guilty to the same charge, but Lupo is scheduled for a change-of-plea hearing at 10:30 a.m. Monday.
The available sentencing range for the charge is probation to three years in prison, followed by a year of supervised release, and a fine up to $250,000.
In his plea agreement, Guesman says he dumped the waste from 20,000- gallon storage tanks on Salt Springs Road in Youngstown at Lupo's direction on 24 nights beginning Dec. 12, 2012.
The U.S. attorney agreed to recommend favorable consideration for Guesman at his sentencing in exchange for his acceptance of responsibility and "substantial assistance" to the prosecution.
The investigation of the case was triggered by a Jan. 31, 2013, discharge that resulted in a massive cleanup that used specialized contractors and cost more than $1 million.
The Ohio Department of Natural Resources has revoked Hardrock's brine-hauling certificate.
It also revoked all injection-well permits for another of Lupo's companies, D&L Energy Inc.
Last fall, U.S. Bankruptcy Judge Kay Woods approved the sale of "substantially all" of D&L's assets for $20.7 million to Resource Land Holdings LLC of Denver, which was the highest bidder in an auction.
The case was prosecuted by Brad J. Beeson, a Cleveland-based assistant U.S. attorney.
Guesman was represented by Carolyn M. Kucharski, a Cleveland-based assistant federal public defender.
Lupo is represented by Attys. Joseph W. Gardner of Canfield and Roger M. Synenberg of Cleveland.