YSU's Elkins measures up to NFL combine cohorts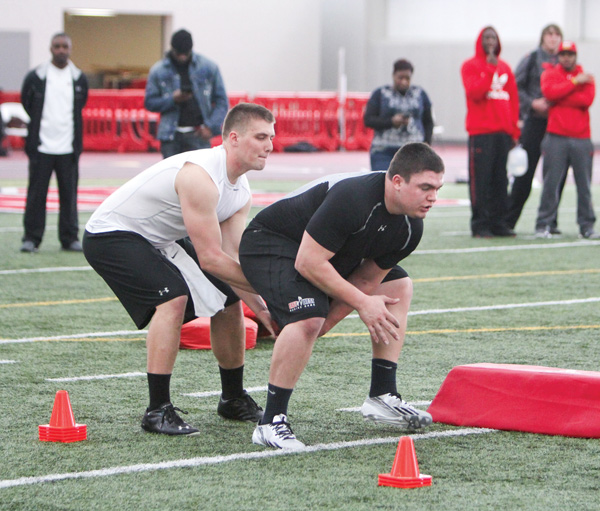 ---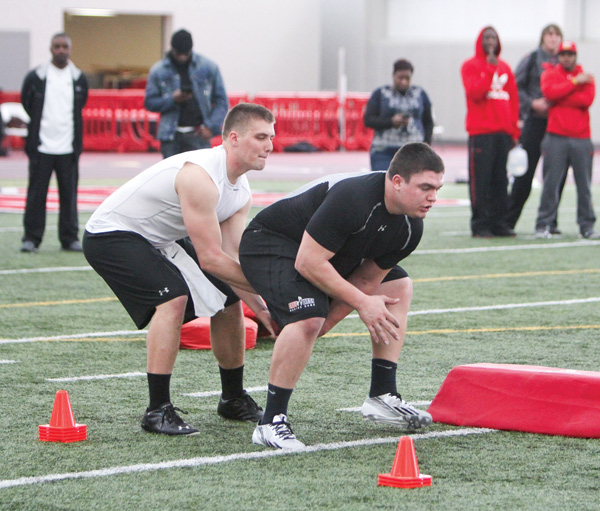 Photo
Former Youngstown State football players Kurt Hess, left, and Chris Elkins run through snapping drills Wednesday during Pro Day at YSU's Watson and Tressel Training Site. Hess and Elkins were among six ex-Penguins who showcased their talents for NFL scouts from the Browns, Steelers, 49ers, Giants and Chargers.
Elkins measures up to NFL combine cohorts
By Joe Scalzo
Youngstown State senior center Chris Elkins spent the last three years grading out as the Penguins' best offensive lineman.
On Wednesday, he looked like the team's best NFL prospect, too.
Performing in front of five NFL teams — including the New York Giants' merciless scout, Steve Devine — Elkins put up numbers that compared favorably with the best linemen from last month's NFL combine, prompting Devine to give Elkins a thumbs-up as he walked out of the WATTS following YSU's Pro Day.
"He is an athlete, man," Penguins quarterback Kurt Hess said of Elkins. "If he was 235-245 pounds, he'd be the best linebacker, hands down.
"This is a great day for him."
Elkins joined Hess, offensive tackle Kyle Bryant, cornerback Dale Peterman, punter Nick Liste and tight end Carson Sharbaugh in the annual showcase, which also drew scouts from the Cleveland Browns, Pittsburgh Steelers, San Francisco 49ers and San Diego Chargers.
Elkins (6-foot-2, 298 pounds) recorded hand-timed 40-yard dash times that ranged between 4.91 and 4.99, which was faster than Hess and Sharbaugh and would have put him in the top 10 percent of linemen from the combine, who were timed electronically.
His 29-inch vertical leap would have tied for fifth at the combine, while his 105-inch broad jump and his 25 reps on the bench press would have been in the top half.
"I didn't hear all my numbers, but I felt really good," said Elkins, who earned first team all-conference honors as both a guard and a center the past two years. "I always dreamed about [playing in the NFL] when I was little, but I wasn't recruited highly out of high school. I didn't know how realistic it was, so today was good."
Last year's Pro Day drew 12 NFL teams and three Penguins ultimately signed as undrafted free agents: offensive lineman Lamar Mady (who spent most of the season on the Raiders' active roster), running back Jamaine Cook (who spent the last half of 2013 on the Browns' practice squad) and tight end Will Shaw (who was in camp with the Steelers and Eagles).
"Knowing those guys can make it into camp and be successful, it shows we're doing the right things here," Hess said.
Among this year's prospects, Elkins and Bryant (who both played in January's East-West Shrine Game) and Hess (who played in last month's College All-Star Bowl) have drawn the most interest from scouts.
Bryant's times and measurables couldn't compare with Elkins, but at 6-foot-5 with an 823/4-inch wing span, he has NFL size.
"Rome wasn't built in a day," said Bryant, who transferred from Bowling Green two years ago. "I felt like overall I did good in my drills, but I probably won't ever have to do a 40 or a bench test again, so I really wanted to come out here and show I can play ball and that I belong."
Hess, a four-year starter, knows his film will carry the most weight with scouts, but like the rest of his teammates, he was happy to get some extra exposure.
"This is how we show who we are," Hess said. "Being from YSU, any extra exposure we can get really helps because we're not at Alabama. We're not at Florida. We're not Ohio State. Not everybody knows us.
"I'm hoping somebody wrote my name down today and they're going to give me a call, give me a chance."
More like this from vindy.com